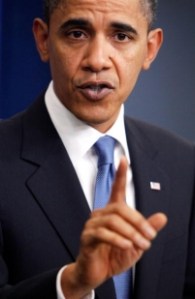 The White House didn't like the headline BusinessWeek slapped on its big interview with President Obama—the first sit-down with the president since Bloomberg took over the company.
"Obama Doesn't 'Begrudge' Bonuses for Blankfein, Dimon" read the head, which, according to the Deputy Communications Director Jen Psaki, "inaccurately made it sound like the President brushed off the impact of bonuses and applauded the role of bankers.
"This naturally came as a surprise to the many people who share his outrage at the behavior that continues on Wall Street and is not an accurate portrayal of where the President stands or what he said during the interview," Ms. Psaki wrote on the White House Web site. Yes, quite a surprise.
Ms. Psaki also provided a meatier transcript of two quotes she thought BusinessWeek had taken out of context, and listed a few long quotes Mr. Obama has given over the past year, in order to show the president's position hasn't changed much. Ms. Psaki's selections don't include some his harshest rhetoric: "fat cat" bankers, "fundamental values," "shameful" and the like.