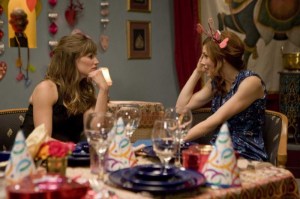 For Hollywood, the long winter of discontent officially starts to thaw this weekend—never mind the foot of snow still piled in front of your apartment building. Three big studio flicks hit theaters today and, as usual, there's something for everyone. As we do every Friday, here's a handy guide to the new releases.
Valentine's Day
What's the story: How bad must the actors and actresses who didn't get the call from Garry Marshall to appear in Valentine's Day feel? Everyone—and we mean everyone—from Julia Roberts to Taylor Swift to Taylor Lautner to McDreamy (Patrick Dempsey) to even McSteamy (Eric Dane) co-star in this panoply of love lost and gained on one Valentine's Day in Los Angeles. Think of it as Love Actually but without charming British accents. The reviews have been scathing (Rex Reed called Valentine's Day "lame," "contrived" and "boring"), but they won't matter. This thing is going to make bank on top of bank.
Who should see it: People who wore out their copies of He's Just Not That Into You.
The Wolfman
What's the story: This remake of 1941's The Wolf Man has been on the shelf for such a long time that we're surprised it didn't get remade as well. Originally scheduled for release in November of 2008, The Wolfman—no time for spaces here in the 21st century—finally gets to see the light of the full moon this weekend, almost 15 months after it was first scheduled to open. Benicio Del Toro stars as the titular lycan and Anthony Hopkins does his best "Anthony Hopkins in Legends of the Fall" impression as his nefarious—and possibly wolfy—father. The reviews have been predictably ugly, but since there is supposedly plenty of gore, expect the horror buffs to show up in droves.
Who should see it: Frankenstein.
Percy Jackson & the Olympians: The Lightning Thief
What's the story: Say hello to the most under-the-radar possible franchise blockbuster ever. We had never even heard of Rick Riordan's Percy Jackson series of books—maybe because we graduated high school in the early '90s—but we kinda wish we did. Combining parts of Harry Potter, Greek mythology and C.S. Lewis, The Lightning Thief stars newcomer—and possible Tobey Maguire replacement in the Spider-Man reboot—Logan Lerman as he attempts to solve the mystery of who stole Zeus' lightning bolt while also searching for his missing mother (Catherine Keener). Parents take note: Ms. Keener isn't the only appealing adult in the cast. Be on the lookout for Pierce Brosnan, Uma Thurman, Rosario Dawson, Steve Coogan and Grey's Anatomy doc Kevin McKidd.
Who should see it: Harry Potter.