Courtesy 20th Century Fox
NY sez: Kathryn Bigelow
LA sez: KING OF THE WORLD James Cameron
Edge: Bigelow. Because even KING OF THE WORLD, in faux-diplomatic mode, gave her this one.
Courtesy Voltage Pictures
NY sez: Colin Firth, playing gay.
LA sez: Jeff Bridges, playing grizzled.
Edge: Bridges--as grizzled as his standing as an Oscar also-ran.
Courtesy Butcher's Run Films
NY sez: Meryl Streep. Per New York, "There Is No Way on God's Green Earth That This Woman Should Have Fewer Best Actress Oscars Than Hilary Swank."
LA sez: Sandra Bullock. Per New York, "Who'da Thunk It?!"
Edge: Meryl. Because, Meryl. (Sandra Bullock--really?)
Courtesy Columbia Pictures
NY sez: Christoph Waltz, a foreigner in a Tarantino movie.
LA sez: Woody Harrelson, a pothead in an anti-war movie.
Edge: Waltz has this one locked up. Guess Germans in uniform are just more intense?
Courtesy Universal Pictures
NY sez: Mo'nique--searing.
LA sez: Anna Kendrick--spunky.
Edge: Mo'nique. Abusive mom trumps achieverly twerp any day.
Courtesy Lee Daniels Entertainment
NY sez: Up in the Air, because we don't want Walter Kirn's Twitter-battle for tickets to have been in vain.
LA sez: District 9. Derogatory nicknames like "prawns" don't make themselves up.
Edge: Up in the Air. Throw George Clooney and Jason Reitman a bone here.
Courtesy Paramount Pictures
NY sez: A Serious Man--bleak Jews.
LA sez: Inglourious Basterds--violent Jews.
Edge: Inglourious Basterds. Brad Pitt!
Courtesy Universal Pictures
NY sez: Burma VJ--anonymous video journalists are having a moment. Plus, we trust A.O. Scott.
LA sez: Food Inc.--California was all over conscientious eating before anyone else.
Edge: Food Inc. People care more about food than journalism.
Courtesy Magnolia Pictures
NY sez: We abstain, because Karen O. wasn't nominated for Where the Wild Things Are.
LA sez: James Horner for Avatar.
Edge: James Horner: Our hearts will go on.
Courtesy Twentieth Century Fox
NY sez: Transformers--Revenge of the Fallen: Ironically, because we don't know what this category means.
LA sez: Transformers--Revenge of the Fallen: Seriously, because those were loud fucking robots.
Edge: Tossup.
Final Score:
NY: 5.5
LA: 5.5
A bit anticlimactic, we admit. But you can't argue with science.
Courtesy Dreamworks SKG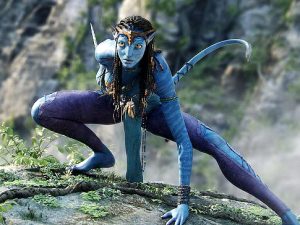 The Academy Awards may belong to Los Angeles, but that doesn't mean that The Observer and fellow New Yorkers can't boldly declare what Ought To Be. We give you Oscar picks by coastal sensiblities–and who's got the edge in the end.