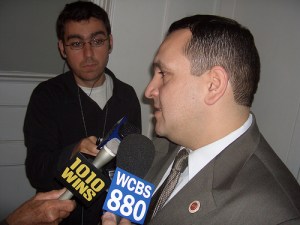 Democratic State Senator Diane Savino said she's "not going to overreact" to the allegations leveled against Governor David Paterson and the state police, who reportedly contacted a woman who was unable to file a domestic violence complaint against a top gubernatorial aide.
Savino said the situation with Paterson is not unlike the one with former State Senator Hiram Monserrate.
"The parallels are a little frightening here," Savino told me.
Monserrate broke a glass on his girlfriend's face, an incident he described as an accident. The woman signed a statement confirming Monserrate's characterization of the incident, even though doctors at the hospital where she was treated described it differently.
But an investigation by the State Senate found that the victim's statement was drafted by, and brought to the victim, by Monserrate's aides.
The Monserrate aides "were present when the statement was drafted, notarized, and signed."
More:
"Edward Irizzary, an attorney who is not a native Spanish speaker, and not Ms. Giraldo, hand-wrote the notarized statement in English. Moreover, Mr. Nieves explicity acknowledged that the statement was not in Ms. Giraldo's words but were 'lawyers words' supplied by Mr. Irazzary. The information provided by Mr. Nieves and Mr. Castro indicates a possibility that Ms. Giraldo's actual intended statements may have been 'lost in translation" during the process of creating the notarized statement."
In the Paterson situation, state police reportedly visited the woman who accused Paterson's aide of abuse. Savino said, "You have to wonder who directed them to do that? Why would they do that?"