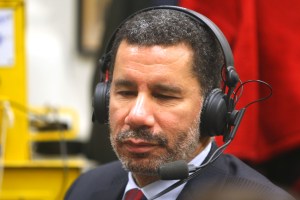 David Paterson said it's wrong to think Democrats could lose Congressional and legislative seats in the midterm elections here based on how he would perform at the top of the ticket.
Paterson, speaking on WWRL this morning, said, "Those races come out independent of the governor's race."
"And anybody who'd like to challenge me—this is how I won the Senate for the Democrats: I ignored the top of the ticket and started punching in the trenches. And that's how you win these races."
Paterson called it a "fantasy" to say coattails from the top of the ticket impacted congressional and legislative races.
"The ones who are doing all the talking about coattails have won nothing," Paterson said.
In elaborating his point, Paterson said, "The first thing you got to know is that because of the amount of money that's spent on these legislative and Congressional races, there are no more coattails."
He said Democrats in the State Senate wrongly tried to "hitch our horses to some big person. Well, Bill Clinton rolled right over Republicans in 1992 and 1996, and we the Senate Democrats got nothing."
"You've got to win those races in your area," he said.
The governor also continues to discuss the rumors that engulfed the Capitol last week, and what he would have liked The New York Times to say in order to stop it.
"Why wouldn't you just print a statement [that said] 'The New York Times is doing a profile piece on David Paterson. At this point, we have not looked into any of these [rumors], nor have we been given any information that any of this is even true.' "
Paterson then offered to go off the air and tell the show's host what happened when other media outlets contacted The Times about the story.
The governor declined to speculate about who started the rumors, saying he simply didn't know. But when he finds out, "I will come on your show or I will challenge them to Ultimate Fighting."
"There we go," said host Errol Louis. "That's good radio."