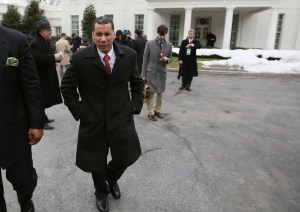 The New York Post and Daily News are reporting that Governor David Paterson will end his campaign, giving in to the growing chorus of Democrats who see the latest scandal as a fatal blow to his already troubled bid for the office.
There are no reports so far that he will resign.
The papers—which each carried front page editorials calling for Paterson to step aside—say a statement is expected this afternoon.
An email to the governor's office was not immediately returned.
Paterson said last night he was forging ahead but "listening" to New Yorkers around the state to get their input on what he should do.
Meanwhile, Choire Sicha speculates about what Andrew Cuomo might be thinking.
UPDATE: An official in Washington just told me they have been informed Paterson is ending his campaign.