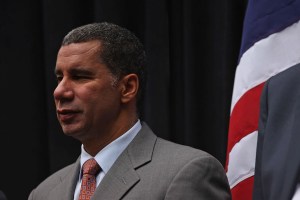 In response to an earlier New York Times story, David Paterson said he didn't know of any recent accusations of domestic violence against his top aide, David Johnson.
But, this morning's New York Times story says the governor himself spoke to a woman earlier this month who was trying to file an order of protection against Johnson.
This morning, Paterson was on John Gambling's radio show, and confronted with the contradiction.
"You said you didn't know anything about this," said Gambling, "but according to The New York Times this morning, you had a telephone conversation with the unnamed woman" about three weeks ago.
"Uh, John, what I'm going to tell you is that I've now turned this over to the attorney general. This is now an investigation," Paterson said. "The best thing for me is that the actual facts come out. In other words, the facts as they occurred, not what one might think."
When Gambling asked again if Paterson had a conversation with the woman, the governor sidestepped the issue.
"You see, John, I don't want to talk about that because, those are things the attorney general will ask myself about," he said. "I don't want to step in front of it."
"I'll just let the facts come out," the governor said. "That will be the best way for this to work and that will be the best thing for me."
According to the Daily News, a Paterson aide denied the governor made the call to the woman. The aide said the woman called the governor.