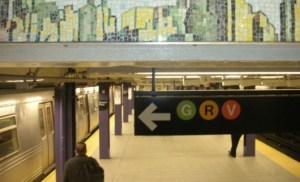 With revenues well below expectations and frustrations high in the suburbs, the year-old "mobility tax" might be up for an overhaul. Governor Paterson on Monday announced a plan for some major changes to the payroll tax, changes he said would fetch the originally intended revenues—$1.54 billion a year—and shift the burden away from the suburbs and into the city.
Billing them as "improvements" to the tax program, the governor said in a statement that he intends to include the changes in the budgeting process, with the goal of enacting them with the 2010-2011 budget, which is due by March 31.
Whether or not the Legislature will let him do that is another question, and it's hard to see New York City legislators rushing to raise taxes on businesses in the city.
Already Kathryn Wylde, president of the Partnership for New York City (which urged the mobility tax last year), issued a statement casting doubt on the broader business community's support of an added tax without more of an overhaul of M.T.A. finances:
"A far-reaching and dependable regional transit system is among New York State's greatest assets. The Partnership for New York City remains open to discussing new ways to improve the MTA's finances, so long as the approach is equitable and balanced. Additional funding, however, cannot be justified unless the MTA gets better control of spending and improves its contracting and procurement processes."
The current structure is a 0.34 percent tax on payroll that employers must pay in New York City and the seven counties surrounding it. The new proposal calls for raising the New York City level to 0.54 percent, and dropping the suburban tax to 0.17 percent.
Under the proposed structure, 88 percent of tax revenues would come from New York City, according to numbers from the Paterson administration, up from 70 percent now. And from a policy point of view, this does seem to make a bit more sense: the economy of New York City is indeed much more dependent on a well-oiled transit system than are the suburbs, so if businesses are being taxed to see it function, why not tax businesses in the city more?
The proposal also offers a carrot to small business as well, exempting self-employed individuals with incomes under $100,000, up from $10,000.
Update 7:25 p.m.
Mayor Bloomberg is no fan of this plan. In a caustic statement, he said he "will work night and day" to "stop this wrongheaded proposal," which he characterized as "contrary to every principle of good regional development." Here's the full diatribe:
"First the Governor proposed a state budget that slashes support for New York City but not the suburbs, and now he proposes to wallop city businesses with more taxes while lightening the load for businesses in the suburbs. The idea that the State can spare the suburbs while sacking the City is terrible economics, grossly unfair, and contrary to every principle of good regional development. We in New York City saw the MTA's problems coming and came up with a plan that would have created a steady stream of revenue for capital programs. Now the Governor proposes to shift an extra half billion dollar burden onto New York City taxpayers, who are the economic heart of our region. I will work night and day with our City's delegation in Albany to stop this wrongheaded proposal from moving forward."