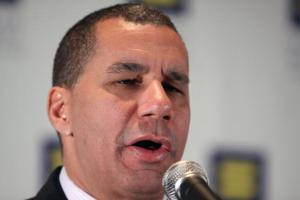 After an out-of-control news cycle forced The Times to do a bit of explaining, and perhaps some soul-searching, the paper finally ran its big Paterson story this morning. And it's not exactly about the governor.
Instead, the two reporters, Danny Hakim and William K. Rashbaum–with the help of four other credited reporters–delved into the life of David Winston Johnson, the governor's occasionally erratic driver and body man, who was apparently caught selling drugs as a teenager and, more recently, may or may not have had violent encounters with women.
The paper had tried to tamp down expectations, but the disappointment is already palpable. Suffice it to say, the revelations seem unlikely to spur the governor's immediate resignation.
At 1:15 a.m., Mr. Paterson sent out a statement explaining, in his own words, Mr. Johnson's rise.
"When I was a State Senator serving a district torn apart by the crack epidemic of the 1980s and early 1990s, I dedicated myself to restoring the community and providing opportunities for young people struggling to find their way. We took interns in our office who wanted to dedicate themselves to getting an education and giving back to the neighborhood. One of these interns was so successful that he became a member of my staff – working his way up from a driver to a constituent service provider, to become a key intergovernmental relations advisor and a trusted friend. David Johnson's growth as a political professional has surprised even his greatest advocates, and I am proud that he has demonstrated what someone can accomplish when given a second chance.

"The New York Times has chosen to splash his youthful offenses across the pages of its newspaper – even though the courts of our State have ordered them to be sealed. Mistakes committed during one's youth are determined by law to be kept sealed for a reason – to give a young person a second chance at a productive life. I profoundly believe in this principle of redemption and giving young people a second chance.

"The more recent allegations reported on by the Times would be extremely troubling if true – but the conclusions reached by the Times report are not supported by the facts. There is no independent evidence presented that would substantiate any claims of violence committed by David Johnson against a woman, a fact underscored by the absence of a single judicial finding that any such incident ever took place. I would caution others from making a similar rush to judgment."