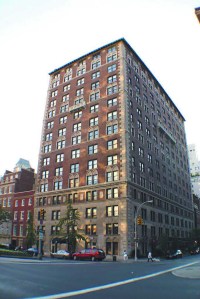 The penthouse at 610 Park Avenue, a deluxe white-glove condo converted by Donald Trump, is a duplex gem hovering in the Upper East Side sky. The five-bedroom apartment, which features "one of the most beautiful private terraces in New York City," is currently listed as a $75,000-per-month rental through Corcoran's Carrie Chiang and Janet Wang. However, according to two sources who have seen the price tag, one of whom is familiar with the building as well, the penthouse is also quietly asking $34.8 million.
There was a time in Manhattan ultra-luxury where that was veritable chump change. As The Observer's Max Abelson noted last year, by late 2008, there were at least 10 properties listed for at least $45 million each (though by June 2009, half were off the market without a sale, and only one had sold). Still, this $34 million quiet listing for the 610 Park penthouse makes it one of 2010's most expensive asking prices and as formidable a barometer as any as to where the ultra-luxury market could go.
Plus, for the 16-story building, it's a bit of a coup. "It is the first time the penthouse apartment has been on the market since Trump's conversion," one of the sources said.
And quite a conversion it was. Mr. Trump bought the 450-room Mayfair Hotel for $15 million in 1998, two recessions ago. He then enlisted his Sancho Panza, dogged architect Costas Kondylis, to design the renovation. "It was a famous hotel with European people who didn't like new things, but it needed to be upgraded," the lovely Mr. Kondylis told The Observer on Tuesday. "We were looking to renovate it as a five- or six-star hotel but the renovation cost prohibited it, so we made it condominiums instead."
The Corcoran listing for the penthouse promises "7,700 square feet of gracious living and entertaining spaces and 1,500 square feet of enchanting roof terrace." Not to mention the walk-in butler's pantry and glorious solarium-just add the ballroom and Colonel Mustard and you could play Clue!
If you dared. "The entrance used to be at 65th Street, but it was more prestigious to have a Park Avenue address so they moved the entrance around to the other side of the building," Mr. Kondylis said. "We also worked with the Landmarks Commission to put windows in on the south-facing wall" adding a lot of light to the condominiums.
With full-city views from north, south and west exposures, a wood-burning fireplace, marble floors and Daniel Boulud's eponymous restaurant on the ground floor, it's easy to see this offering as its listing does: a "once in a lifetime opportunity." Though the broker behind it, Ms. Chiang, hung up on The Observer on Tuesday.