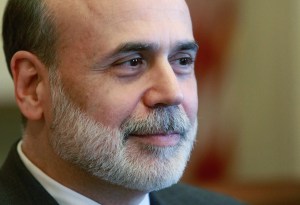 After the closest confirmation vote in the history of the Federal Reserve, Ben Bernanke–Time's Person of the Year–was very quietly sworn in to a second term as Fed chairman this afternoon.
Sewell Chan tries to fool you in his lead:
Ben S. Bernanke stepped into the imposing two-story marble atrium at the Federal Reserve's headquarters and took the oath of office from his deputy. The president lauded him as "an economist's economist" who had "earned the respect of the global financial community." A Cabinet secretary, members of Congress and two former Fed chairmen looked on.

That was then.
Everything about today's ceremony was less colorful–no president, a simple statement from Mr. Bernanke saying he enters with "not a little humility," and a burly beard that's been pretty well blanched.