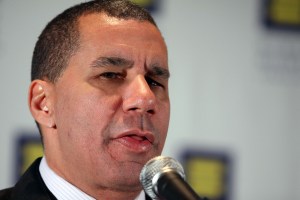 David Paterson will be governor for at least a few more days.
That Times guillotine didn't come down this weekend. And then, despite the best guess of one Business Insider source, didn't drop this morning either. (Instead we got a story about the governor giving St. Vincent's another loan.)
Now Ben Smith reports the governor is meeting with The Times tomorrow, so it looks like Albany Armaggedon will have to wait until at least Wednesday.
In the meantime, the Paterson camp is hitting back. "This is a new low even by the standards of planet Albany. The circus of the past week–entirely fabricated out of thin air and innuendo–is an embarrassment for all who have played a role in feeding it," Paterson's spokesman, Peter Kauffmann said. Another spokesperson has said the governor won't resign.
What the story winds up looking like could be a measure of how much speculation and innuendo the Times is willing to peddle after that $27-million dollar libel suit by John McCain's not-mistress. (The suit was eventually dropped, and, more than a year after the story ran, the Times appended a Reader's Note.)
Some are even wondering if the story will end up being so completely underwhelming that it will be a net gain for the embattled governor.