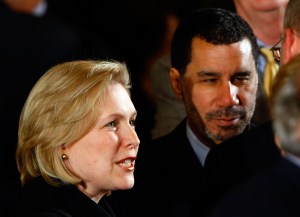 Governor David Paterson is trailing both his likely primary challenger, Attorney General Andrew Cuomo, and the likely Republican nominee, Rick Lazio, according to a Sienna poll out today.
Paterson is ridiculously behind Cuomo among Democrats, 22 to 64. Against Lazio, Paterson trails 39 to 46.
Cuomo trounces Lazio 63 to 26.
Senator Kirsten Gillibrand leads most of her potential opponents, except George Pataki, who she could theoretically face in the general election (Pataki has shown few signs that he will run). Against Harold Ford, who has not declared he is running in the Democratic primary, but is making a lot of noise about doing it, Gillibrand leads 42 to 16. Democrat Jonathan Tasini has four percent.
Gillibrand trails Pataki 41 to 47. She trounces Bruce Blakeman, 51 to 24.
When pitted against Daily News publisher Mort Zuckerman, Gillibrand leads 49 to 29 percent.