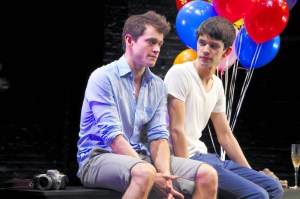 The Pride opens in Philip and Sylvia's stylish, modest flat in 1950s London. Sylvia is offstage, primping for a night out, and her husband has welcomed Oliver. Sylvia is an illustrator and Oliver is a children's book author she has just begun working with, and she is determined to introduce her new friend to Philip, who runs his family's real estate concern. She thinks it's important they meet, that they get along. They seem to.
The second scene brings us into the 21st century. Oliver is still onstage, kneeling on all fours in front of the couch, dressed only in a pair of black Calvin Klein boxer briefs. (That's the signal the era has shifted: Skimpy underwear may change, but midcentury décor is forever.) He's licking the boots of a Nazi officer, engaged in what soon becomes clear is sexual role play. They're interrupted by Philip, Oliver's recently ex-boyfriend, returning to collect a final bag. Oliver cannot stop himself from having sex with strangers; Philip cannot tolerate his partner's promiscuity. Oliver is lonely and bereft.
And so continues Alexi Kaye Campbell's The Pride, which opened last night in an MCC Theater production at the Lucille Lortel, bouncing back and forth between 1950s gay repression and 2000s gay liberation, under Joe Mantello's direction. Indeed, dualities abound: The Pride manages to be at times enjoyable and at times not, sometimes wittily insightful and sometimes clichéd, frequently compelling and also occasionally—especially as the turgid second act drags on—surprisingly boring.
Promotional materials have called The Pride "a kind of erotic time warp," but it's not, really. It's two overlapping stories, one set in 1958 and one in 2008, featuring the same three excellent actors—Hugh Dancy as Philip, Ben Whishaw as Oliver and Andrea Riseborough as Sylvia—playing characters with the same three names. (A fourth actor, Adam James, has delightful turns in several supporting roles, including as the Nazi-slash-escort who just wants "to be treated with a modicum of respect," and as a loutish but well-meaning lad-mag editor, whose funny and humane monologue assigning a "gay sex for the straight man" piece to 2008 Oliver, a freelance journalist, underlines the societal shift around which the play pivots.) But the two stories, while thematically similar—essentially, meditations on love, loneliness, meaning—are entirely separate.
In 1958, Oliver is necessarily closeted and longs not to be. He falls in love with Philip, who isn't merely closeted but repressed; though he talks about wanting to run away, emigrate to Australia, Africa, wherever, he cannot conceive of himself as gay, as different. This is a story of loneliness: Oliver wants what he can't have; Philip can't be true to himself; Sylvia knows her husband will never truly love her. (It's also lit almost entirely from directly above, leaving the actors bathed in shadows, a manifestation of their shadowy existences—a play that dares not show its pretty actors' faces.)
The 2008 story, instead, is about intimacy. Oliver and Philip have been a couple for 18 months; Philip, this time in an underwritten role as the perfect boyfriend, is a photographer who just wants to love and be loved by Oliver. Oliver loves Philip but cannot stop having sex with other men. (In this story, Sylvia isn't part of a triangle; she's Oliver's best friend, and she's busy falling in love with an unseen Italian man.) This time, everyone ends up happy: Philip and Oliver are back together, at least provisionally; Sylvia has her Italian.
There are a number of lovely, introspective speeches that will no doubt ring familiar to Manhattan's legion of therapized, theatergoing gay men: about always knowing you were different but being unable to articulate how, about hoping that someday things will be different and better and more tolerant, about a nagging fear, as 2008 Oliver says, that he's "no good … unlovable. … This is what you deserve."
But there's also some clunky writing, like when 2008 Sylvia gives an impassioned speech about how gay men are reduced to stereotypes ("Now will you kindly step off your fucking soapbox," replies Oliver) and then, moments later, coos in excitement when Philip announces he's brought chorizo, duck and tapenade sandwiches: "I love you guys." The 2008 happy ending also feels unearned: Oliver wants to change, yes, but he hasn't, yet. And the parallels between the two stories remain somewhat unclear: Is it a commentary or a coincidence that the "good" character in 1958—Oliver, who yearns for an open, honest, stable existence—is the cheating, dishonest sexual compulsive in 2008?
And there's a final irony: Mr. Whishaw has caused a small blog furor over the past few weeks by being strategically vague about his own sexual identity, allowing Out to portray him as gay in one interview and New York to portray him as straight in another. It's a not uncommon stance for people in the public eye, whether news anchor or actor. (Ugly Betty star Michael Urie, who this month reprises his role in the pre-Stonewall gay-rights play The Temperamentals, walks the same line.) But it's a strange choice for a man starring in a play about a closeted gay man whose only wish is, as 1958 Oliver says, "to live an honest life."