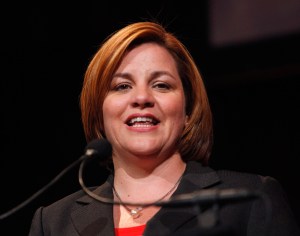 Christine Quinn delivered her State of the City speech in City Hall today, and was entirely about boosting the economy and creating jobs.
How many?
She didn't name a specific target goal (probably smart, politically speaking). Here are some of her ideas:
–create a resource space for tech entrepreneurial ventures, modeled off one in San Diego, which she said created 27,000 jobs over 25 years.
–allow gree-tech entrepreneurs test their products in city-owned buildings, so they can develop products quicker.
–reduce "excessive and burdensome regulation." On this point, Quinn said the city has to "change the way we think about the inspection process" and stop "looking for an excuse to write them a ticket."
Quinn said she wanted to create a more supportive tax structure, and revamp the process by which applicants sign up and prepare for GED tests.
One proposal that caught my ear was Quinn's plan to open a "market for regional food" at the site of the old Fulton Fish Market. Quinn said it would be a place where local chefs could hawk their goods, and, could be an important "a destination for residents and tourists."