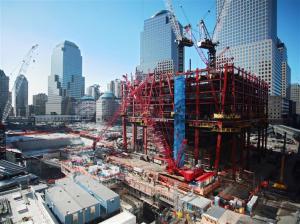 What do Stephen Ross, Steve Roth, Mort Zuckerman, Douglas Durst, Ric Clark and Gerald Hines have in common?
The six landlords are all vying to take a stake in 1 World Trade Center, the since-renamed 1,776-foot "Freedom Tower" that is being developed by the Port Authority of New York and New Jersey.
According to multiple people familiar with the situation, the six landlords' firms—respectively: Related Cos., Vornado Realty Trust, Boston Properties, the Durst Organization, Brookfield Properties and Hines Interests—have all responded to the Port Authority's queries for a partner on the tower.
The Port Authority, the bi-state agency that has been (gradually) developing the giant office building for years, last month reached out to a small group of developers, asking if they would have interest in taking a financial stake in the tower, with a payment of at least $100 million. After giving site tours to interested developers, the six aforementioned ones pitched preliminary proposals for the tower to formally throw their hats in the race.
The developers would not take a standard equity stake, but rather would offer a more complex financial plan to the agency, according to a Port Authority official. (A standard equity sale would surely be unappealing. The building will no doubt lose money for years, as it costs perhaps more than any other major skyscraper ever, given its $3.1 billion price tag for the 2.6 million rentable square feet. Security measures and a giant below-ground component helped boost the cost.)
The purpose of the offering of a development stake is to engage the private sector in the leasing and operation of the tower, taking the bi-state agency out of the driver's seat as attempts are made to find tenants for the building. By finding a developer to put in money, it would also bring in cash to the budget-strained Port Authority, which has seen its revenues drop amid the recession and major cost overruns at the World Trade Center site.
"We're pleased with the private sector's strong interest," said Stephen Sigmund, a Port Authority spokesman. (The development firms declined comment or did not respond to queries).
While the responses from the developers contain financial information, they do not contain specific bids, according to a Port Authority official. Such bids would be developed in negotiations over coming months.
Of course, the responses do not necessarily suggest the Port Authority will suddenly be swimming in developers' cash. For a developer, it is relatively cheap and easy to put together a proposal and negotiate with the agency. But whether or not the firms are actually ready to settle on a dollar amount at terms favorable enough to the Port Authority is another question entirely, the answer for which will presumably become clear in coming months.