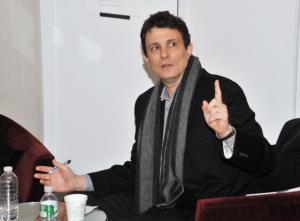 New Yorker editor David Remnick spoke this week at Columbia Journalism School as part of the Delacorte lecture series. On the subject of the magazine's cost, he had this to say:
"There's no doubt to me that the business of practically giving away the magazine to jack up circulation has no future," Remnick said. "Forty-two bucks for 47 issues. I think you can pay more than a buck for the magazine."
The New Yorker's current subcription rate (47 issues/$39.95) is "actually 85 cents per issue," as Observer alum Gillian Reagan points out.
And it's a bargain! Really:
When the consulting firm McKinsey was brought in last summer to do a study of business practices at Condé Nast, Remnick and the rest of his editorial staff were left out of the cost cutting, according to reporting by The New York Observer.

For Remnick, the reason is simple.

"I think there is a future for The New Yorker," he said. "With the expansion of the Internet, there's more speed, more reach, and more information. But are there more Sy [Seymour] Hershes? Jane Meyers? I think there's arguably less."