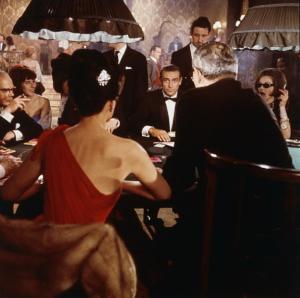 Back in August, on the eve of Sam Sifton's appointment, John Koblin wrote a "Lament for the Old-Fashioned Restaurant Critic." This month, the Columbia Journalism Review examines the profession's trajectory: from Craig Claiborne's development of the standard Times review, to Ruth Reichl's elevation of the review to "a bona fide literary form," to the "runaway popularity of sites like Chowhound and Yelp."
Perhaps the most exciting element of this history is the development of elaborate and spy-like disguises. Reichl famously wore wigs and other costumes after her picture started popping up in kitchens around town, and this summer The Times had to scramble to get rid of Sifton photos online. But even by 2007, a culture shift had clearly taken place:
In 2007, underneath a photograph showing her grinning face above a lavish quantity of cleavage, Danyelle Freeman (a.k.a. Restaurant Girl) became the first review blogger in the city to vault into a full-time professional position, as the principal reviewer at the New York Daily News. In an article announcing her new position, the newspaper reiterated her ideas about reviewing and anonymity: "The choice not to write incognito is one that is likely to raise eyebrows and debates. Must a critic dine like a spy? If not, will they get preferential service or dishes? Freeman doesn't think so."
Maybe. But dining like a spy! It sounds fun!