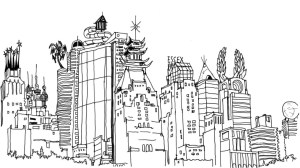 It was startling, that day when Munich-based businessman Ernst Georg Hartner looked out the north-facing window of his condo at the lavish Jumeirah Essex House and found his Central Park view corrupted by a greenhouse-like structure perched on the ledge abutting his next-door neighbor's apartment.
Perplexed, Mr. Hartner contacted the neighbor. And the Essex House condo board. What was this? No good response. So, in 2007, he approached an attorney-he wanted his neighbor to tear the solarium down.
On a recent Wednesday morning—in 2010—Mr. Hartner's daughter, who is staying at her dad's pied-à-terre while studying abroad, welcomed a reporter and an attorney inside. From the windows of the apartment, the solarium could still be seen clinging tightly to the ledge of the condo-hotel's 19th floor-directly in that Central Park sightline.
Some fear that, should the city and condo board allow the solarium to remain, it could set a precedent that would thunder like a storm across New York City's roofscape, depositing greenhouses and gazebos and outsize apartment additions in its wake. "[Y]ou have vast potential for barnacle-like accretions springing from the brows of historic buildings," wrote the Historic Districts Council's Simeon Bankoff in an angry letter to the city's Board of Standards and Appeals.
The barnacle at the center of this kerfuffle is a nice-sized, glass-walled living space that, in recent photos, is furnished with a modern off-white couch; a small, mahogany-colored kitchen table and coffee table; and on the yellowish wall that abuts the historic tower, a poster from the production of Eric Bogosian's play Talk Radio, starring Liev Schreiber.
Banker Ira Saferstein, president of Titan Capital, owns the solarium, and the apartment to which it connects. He didn't build the offending architecture. Rather, he bought it in 2008 for $3 million from a disreputable fellow named Steven Green. When, in 2008, The Observer's Max Abelson asked Mr. Saferstein if he knew Mr. Green—whom The Village Voice named one of New York's 10 worst landlords in 1990, and who was later sentenced to three months in prison for fraud—Mr. Saferstein responded: "If you mention I'm the buyer, you will have a problem, sir. Is that clear?" Then he hung up.
Mr. Saferstein wouldn't comment for this article, either. But his unit's outdoor living area has prompted Mr. Hartner, who was educated at Haverford College and who visits the New York apartment only occasionally, to sue him and to try to tear down the structure using the levers of city government. One problem. The Department of Buildings is arguing before the final arbiter-the Board of Standards and Appeals-that for all manner of arcane reasons, the solarium should stand.
ON JAN. 30, 2009, THE Department of Buildings, which enforces zoning rules, seemingly sprung to action, issuing a violation for erecting a "steel frame & glass structure" without a permit and increasing the degree of the building's noncompliance with existing zoning regulations.
The citation for violating zoning rules was later withdrawn. The city's reasoning was complicated, but logical, in a loopholey, bureaucratic sort of way.