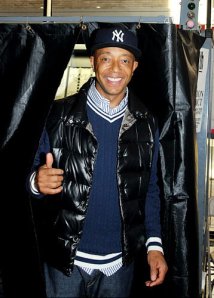 Russell Simmons—who has some ties to Andrew Cuomo—is scratching his head over the Aqueduct deal, which is giving David Paterson a considerably large headache.
The project has, for some strange reason, also attracted the attention of another rap mogul, Jay-Z.
Anyway, on GlobalGrind.com, Simmons wrote:
What's wrong with Penn National Gaming, who I endorsed to develop the New York Aqueduct project?

Let's be clear. I'm just an advisor to a group that bid to develop the long-overlooked Aqueduct racetrack. I happen to be a Queens native who got a big commitment from National Penn Gaming to support animal rights, local unions, diversity initiatives, and community development projects, like the Peacekeeper Anti-Violence program that I've already started in Queens and Brooklyn, in part through National Penn's contribution.

They offered the most money to the state, by $100 million, up front. They can pay the fastest because they have the money in the bank. They can get up and running and paying tax the fastest because community racing and betting is their core business with more experience in this field than all the other bidders combined. They made to me personally the strongest commitment to sustainable development working with local businesses instead of competing with those businesses. That was what the local community wants the most.

I'm not knocking Rev Flake or anyone else associated with any other project. But their's just wasn't the best deal for New York. Speaker Silver, Senator Abrams and Governor Patterson, can any of my dear friends in NY government tell me where and when did it all go wrong? At time of great financial stress for the State, when programs for the poor are being cut, I backed what I thought was the best deal for the region, the city and the community. Why didn't the leadership just take the best deal for the people of New York State? I did.