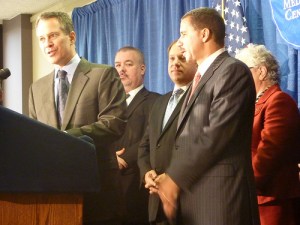 State Senator Eric Schneiderman said the latest allegations against fellow Democrat Governor David Paterson are "a pretty devastating blow."
I asked Schneiderman if this situation paralleled—as some have suggested—the controversy over former state senator Hiram Monserrate, who was expelled from the Senate after he was convicted of misdemeanor assault for dragging his girlfriend down the hall of his apartment building after she was injured by a broken water glass. Monserrate called the incident an accident.
Schneiderman, who led the Senate investigation into Monserrate's conduct and recommended the expulsion, said Monserrate's aide improperly influenced his girlfriend after the incident. Similarly, Paterson and the state police are reported to have interfered with a woman filing a domestic assault complaint against one of Paterson's top aides.
"Senator Monserrate appeared to have used staff to control the victim, to attempt to pressure the victim," Schneiderman said.
"The idea that the state police can be involved in that way is just beyond despicable," he said. "That is just beyond appalling."