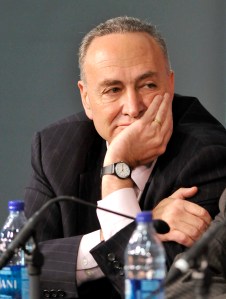 While junior Senator Kirsten Gillibrand tries to stave off an unlikely challenge from former Tennessee Congressman Harold Ford Jr., the state's senior senator is apparently getting a challenger from even further afield.
"The reason I'm running against Chuck is because he can win in November if he wins the primary, in spite of a challnege [sic]," wrote Phillip S. Krone, an Illinois political consultant who votes in Florida, in a rambling post on the Chicago Daily Observer Web site.
"New York belongs to all Americans," wrote Mr. Krone. He explained that as an 8-year old in 1949—the year before Mr. Schumer was born—he traveled around New York. "So I can say I was in New York before Chuck Schumer was, even before he was conceived."
Though the bio at the end of the post refers to Mr. Krone as a "Candidate for the US Senate from New York," most of the post is in the past tense—about what he would have done if he had declared earlier instead of dedicating himself ("not as a paid consultant or on staff but in my own way including offering strategic and tactical advice") to the campaign of Illinois gubernatorial candidate Dan Hynes, who lost a close primary last week.
Mr. Krone states that he'll run only if he raises $10,000 in sums of less than $250, before April 1. "So if you want me to run please send encouraging notes and dollars. I will accept contributions from anywhere in the United States including Alaska and Hawaii. If I get $10,000 by April 1 I will do this," he wrote.
In the interest of full disclosure, Mr. Krone includes the caveat that in October 2006, he was given only six months to a year to live.