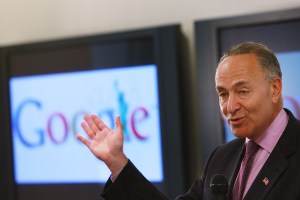 Chuck Schumer sent a letter to Eric Schmidt today, asking the Google C.E.O. to use New York State as the testing ground for its new, incredibly fast broadband service.
"Google choosing New York as the place to locate its broadband project would be a homerun for entrepreneurs, small businesses, students and middle class families everywhere, especially Upstate," Mr. Schumer said in an accompanying press release.
Google and the senator have teamed up before. In 2008, he and co-founder Sergey Brin operated a pair of giant scissors to cut the ribbon on Google's new urban-park office in Chelsea. ("We don't have high-tech scissors?" Mr. Schumer asked. "How about a laser?")
But Mr. Schumer–who is always on the lookout for an upstate headline–pitched the broadband experiment as a way to create more jobs outside of New York City. "While New York State has long been a source of technological innovation, there are still areas in the North and West of my state where reliable internet access is hard to find," he wrote. "Quality affordable internet access is imperative for the sustained and vibrant growth of communities throughout New York."
According to Mr. Schumer's office, 17.5 percent of rural New Yorkers still use dial-up. "If Google were to set up a site in New York, it would not only gain access to a mature culture of internet users, but a grateful populace as well," Mr. Schumer wrote.
The letter ends: "Not only is it a smart decision to showcase the effectiveness of your network, but you would have my complete and fervent support as well as the lasting gratitude of many New Yorkers."
Having the "complete and fervent support" of one of the Senate's top Democrats would not be a bad thing for Google. A Times story–which Mr. Schumer references in his letter–implies that the newer, better broadband is partly a way to push for restrictions on established broadband providers that would be benefit Google. And, of course, there's that antitrust stuff too.
The full letter:
Eric Schmidt
Chairman and CEO
Google
1600 Amphitheatre Parkway
Mountain View, CA 94043

Dear Eric:

I was pleased to read in the New York Times that Google is offering communities the opportunity to benefit from high-speed broadband internet access. While New York State has long been a source of technological innovation, there are still areas in the North and West of my state where reliable internet access is hard to find. Quality affordable internet access is imperative for the sustained and vibrant growth of communities throughout New York. I am writing to urge Google to consider New York State as a potential site for a community super high-speed internet network.

New York has much that can showcase the positive effects of Google's super high-speed network. Overall, New York is one of the best networked states, and placing one of your projects here would allow Google to show performance improvements in a mature internet market. That said, 2007 Census Bureau data on internet usage shows that while 7.25% of New Yorkers state wide use dial-up, nearly 17.5% of rural New Yorkers still use dial-up instead of broadband. New Yorkers have long voiced concerns about the lack of telecommunication companies' efforts to reach rural areas.

If Google were to set up a site in New York, it would not only gain access to a mature culture of internet users, but a grateful populace as well. Google would be helping rectify the inequalities of internet access in my state and help spur a flood of economic development as a result.

Thank you for taking a close look at New York State as a site for a future super high-speed internet site. Not only is it a smart decision to showcase the effectiveness of your network, but you would have my complete and fervent support as well as the lasting gratitude of many New Yorkers.

Sincerely,

Senator Charles E. Schumer