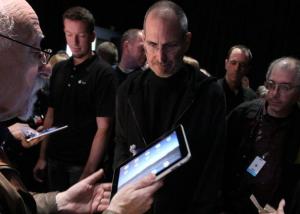 A source tells New York that Steve Jobs recently joined 50 top Times executives for a secrecy-shrouded dinner at Pranna:
Our source says Jobs, who sat at the head of the "intimate, family-style gathering" with Times publisher Arthur Sulzberger, demonstrated the iPad and its functions, and spoke about how it could serve the future of media. At one point Jobs confessed that, although he reads the Times online every day, even he likes to have the Sunday edition in his hands.
The source also reports that Jobs wore "a very funny hat–a big top hat kind of thing" and ordered penne, which was not on the menu.
Because when you are Steve Jobs, you know how to do "secretive and eccentric" in style.