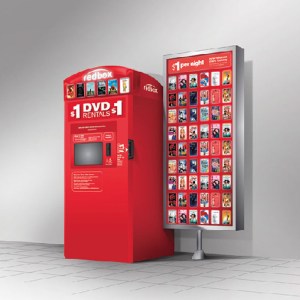 In the thick of the Oscar race, Hollywood can't stop chattering about blue aliens in 3-D. But it may be some low-tech red vending machines that will have the lasting impact.
The machines belong to the DVD rental company Redbox, and they're threatening to transform the economic math of the movies. While there are only three of the machines in Manhattan, and a smattering in the boroughs, they are proliferating. Within the next year, the company expects to have 30,000 vending machines across the country. Plus, one of the company's biggest partners is Walgreens, which just agreed to gobble up Duane Reade, adding to Redbox's reach.
As vending machines go, Redbox is relatively advanced. You can reserve videos online ahead of time, kind of like Netflix, and then pick them up on your way to get a Slurpee. The machines have been cleverly installed in high-traffic areas where people are already buying stuff, such as drug stores, Wal-Marts and 7-Elevens. In fact, the company was originally funded by an arm of McDonald's, though the fast-food giant sold its interest to Redbox's current owner, Coinstar, the company that operates all those change-counting machines in grocery stores.
It's the second part of Redbox's battle plan, though, that has had Hollywood execs in a sweat: It rents videos for a bargain price of $1 a day, and the boxes are popular at Wal-Mart, which also happens to be the studios' biggest venue for selling DVDs, which, in turn, is the most lucrative source of domestic revenue for most Hollywood movies.
The studios have forbidden its distributors from selling discs to Redbox, so the company has deployed armies of workers to go into Wal-Marts and buy new releases in bulk. Those DVDs are later placed in Redbox machines for rent. Just the sticky-finger security-tape-peeling boggles the mind.
I asked the company how many people they employed in this effort. Not surprisingly, it declined to say. But it's clearly making an impact: In response to the complaints of the studios, the big retailers have imposed five-per-customer limits on new DVDs, presumably so they won't be sold and inserted into Redbox machines. Consider a recent note by Rich Greenfield, an influential media analyst, at Pali Capital: "If Redbox is able to flourish, while devaluing home entertainment ($1/day rentals makes all other forms of home entertainment appear overpriced), all of the companies we cover in the movie industry will suffer."
Redbox's real threat is not so much its machines or its Web site, but rather the fact that it has existed largely outside of a carefully architectured system under which the studios try to control when and how their wares are released for consumption. Home video may lack the red-carpet, big-bet glamour of the theatrical-release end of the business, but it has been a huge part of Hollywood's economic engine for years. The best part of that business is selling DVDs, but it has been on the wane. The research firm Sanford Bernstein reports that $6.5 billion was spent on rentals in 2009, up 4 percent, while physical DVD sales fell 13 percent.
Part of this can be chalked up to human nature—there are more and easier ways to get movies all the time, from video-on-demand to Apple TV to Netflix's streaming service. Conceptually, Redbox already sounds like an outdated idea in the day of the iPad. But its rapid rise shows that all the dreamy talk about "everything online" can get ahead of itself. (Struggling industry heavyweight Blockbuster, which has been closing stores by the hundreds, has been rolling out its own kiosks, called Blockbuster Express.)
Last week, there were signs of a détente between Redbox and Hollywood. Warner Bros. and the company signed a deal under which Redbox's sticky-finger squad will lay off Warner's titles. Instead, the company agreed not to rent new releases for 28 days after they go on sale at retail, in exchange for better terms in buying inventory direct from the studio. Redbox had been suing Warner, Fox and Universal for being anti-competitive. Greenfield and others believe this could signal the end of the company's impressive run—one studio exec put it to me that Redbox would be in the business of selling the equivalent of "day-old bread," and that's just fine with them. Of course, those blue 3-D aliens were underestimated, too.