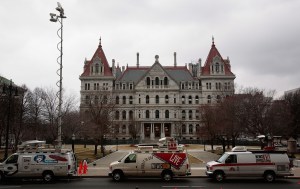 Anthony Seminerio, the former assemblyman who pleaded guilty to tacking kickbacks in exchange for providing help to those who wanted state funding, was sentenced to six years in prison today and required to forfeit a million dollars.
Judge Naomi Reice Buchwald didn't accept Mr. Seminerio's claim that he only violated the law once in his 30 years of legislative service, or that his "consulting fees" were previously approved by the state's Legislative Ethics Committee. The court called that explanation "garbage in, garbage out."
Instead, Ms. Buchwald wrote that the assemblyman did not provide "any bona fide consulting services that fall outside the scope of activities an elected official could readily be expected to perform on behalf of his or her constituents." The court also found that Mr. Seminerio actively punished companies who didn't pay him, by blocking legislation and discouraging partners from working with them.
And the press release sent out by the Southern District made sure to include Mr. Seminerio's secretly recorded description of what it means to be a public official: "It doesn't mean [expletive deleted]."