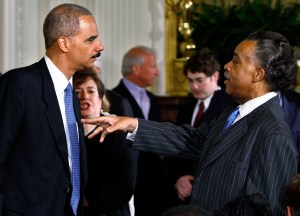 Attorney General Eric Holder has taken more than a few lumps for his decision to try Khalid Sheikh Mohammed in Foley Square–enough that the New York Times and the New Yorker each saw fit to detail his troubles in a pair of lengthy profiles.
Now it seems Mr. Holder has also upset Reverend Al Sharpton–by refusing to bring a federal case against the police officers who shot Sean Bell in November of 2006. (The officers were acquitted of state charges in April of 2008.)
In a press release, the Department of Justice said it had conducted a "comprehensive independent investigation" of the event–including double-checking the ballistics tests performed by the NYPD–and found there was insufficient evidence. "Neither accident, mistake, fear, negligence nor bad judgment is sufficient to establish a federal criminal civil rights violation," reads part of the statement.
"I expressed to [Mr. Holder] my extreme disappointment in the decision and our legal advisors saw the evidence and federal jurisdiction differently," Mr. Sharpton wrote to his Facebook page from Miami this afternoon, after speaking with the attorney general this morning. "Even though two of the three officers in question were Black we will not stop our pursuit of justice in this matter until every measure in the criminal and civil arena has been exhausted. Fifty shots on an unarmed man who engaged in no crime is intolerable."
Mr. Sharpton said he would be meeting with the family of Mr. Bell and their attorneys when he returns from Miami tomorrow to chart a course of action.