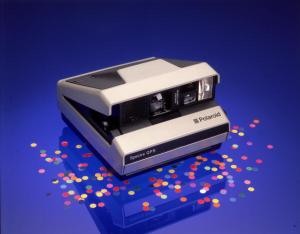 The bankrupt Polaroid company will be selling off the highlights of its photography collection. Sotheby's has scheduled the auction for June 21st and 22nd, following a six-day-long display filling the entirety of Sotheby's headquarters. The Times reports:
On offer will be 400 photographs by Ansel Adams alone, along with prints by [Chuck] Close, [William] Wegman, Robert Rauschenberg, David Hockney, Robert Frank, Robert Mapplethorpe, Warhol and Lucas Samaras. Together the 1,200 objects are expected to fetch $7.5 million to $11.5 million.
Polaroid amassed its collection by trading artists equipment and darkroom time in exchange for their input and their prints, and by hiring Ansel Adams to collect non-Polaroid works in the '50s. The items for sale are "just a fraction" of the 10,000 that Sotheby's has in storage.
Apparently, Polaroid's representatives had talks with various museums (including the Fogg at Harvard) but couldn't reach a deal. Many, including Chuck Close, are not pleased to see the collection broken up:
"It's an amazing body of work," Mr. Close said in a telephone interview. "There's really nothing like it in the history of photography." But, he added, "to sell it is criminal."
But the over-70-year-old company is in bad shape. Most recently, according to The Times, it's been "caught up in a $3.65 billion Ponzi scheme."
The two-day auction is likely to rank among the biggest sales of corporate photography collections liquidated by a bankrupt company. Futures trader Refco Inc. holds the record of $9.7 million fetched for its photography collection sold at Christie's in 2006.