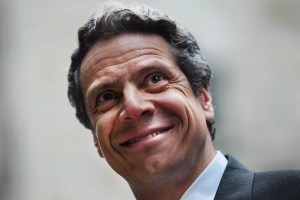 "Circumstances mount," said Jay Jacobs, the State Democratic Party chair, by way of explaining David Paterson's decision not to run for election.
Jacobs was speaking at the press conference where Paterson dropped out of the governor's race. He said Paterson made the decision at about 5:30 last night.
"I would suspect that there would be rapid movement to Andrew Cuomo. I will be endorsing Andrew Cuomo," said Jacobs. (Probably glad not to be in such an awkward position anymore.)
"I would be surprised if we didn't have 62 county chairs endorsing him rather quickly. He's the natural choice."
Paterson aides stood along the wall as their boss said he would no longer persue a full term in office. Paterson's campaign manager, Richie Fife, was also in attendance.