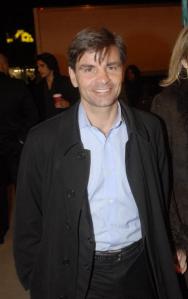 George Stephanopoulos had a Heineken with Steven Colbert last night, and talked about his new gig at Good Morning America, which requires him to not only rouse himself at 3:45 every morning, but sit through soft-focus segments on, say, the best online coupons.
Mr. Colbert posited a theory about why the successful host of This Week would bolt for a soft-focus morning show.
"[Diane Sawyer] was at GMA and now she's got the anchor chair for the evening news. Charlie Gibson was at GMA and then he got the evening news," Mr. Colbert said. "Is this tit-for-tat, like, 'I'll do GMA and flip the blueberry pancakes and then I get the chair?' Is there a quid pro quo here with you and ABC News?"
"It all depends on how good the pancakes are," Mr. Stephanopoulos quipped, before getting serious. "A lot of people who've done the job go on to do the evening news, but this is Diane's job for as long as she wants it," he said.