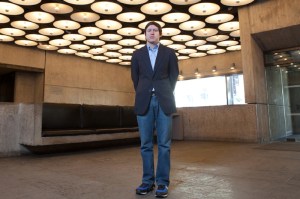 For a second there, Gary Carrion-Murayari panicked, thinking that maybe his boss had called him into her office because she was about to tell him he was being laid off. Far from it. Instead of being fired, the young curatorial assistant learned that autumn afternoon in 2008 that he'd been tapped for a potentially career-making job—curating the Whitney's upcoming Biennial alongside the art world giant Francesco Bonami.
Sitting in his office at the Whitney late last month, the 29-year-old Mr. Carrion-Murayari said it took him no time at all to accept the position when the museum's chief curator, Donna DeSalvo, offered it to him. Working on the Whitney's 75th Biennial—arguably the most high-profile platform available to a curator of contemporary art in this country—turns him, overnight, from a well-regarded but obscure curatorial assistant into a household name among gallerists, artists and other museum people in New York and around the country.
Now, about 16 months later, Mr. Carrion-Murayari finds himself on the home stretch, making sure projects are coming in on time and helping with the installation of the 55 works he and Mr. Bonami have selected for inclusion in the show. Titled simply 2010, the Biennial will open on Feb. 25, at which point Mr. Carrion-Murayari's curatorial talents and taste will be subjected to the chorus of critics and assorted art world aficionados who in years past have so reliably and athletically savaged the Biennial for failing to meet their expectations.
Mr. Carrion-Murayari appears to have braced himself for a potentially hostile reception.
"People will always find something to not like," he said. "Some people might hate that we have a floor that's mostly film and video, and some people might love that. Some people might hate that we have so much painting. There's a fair number of critics who are just interested in picking on things, or looking for an angle from which to criticize the show. It's just completely unavoidable."
Putting young people in charge of the Biennial is nothing new for the Whitney. The 2008 show, for example, was curated by Shamim Momin (now the director of LAND in Los Angeles) and Henriette Huldisch, who were 34 and 36 at the time. According to New Museum director Lisa Phillips, who, at 30, was among the team that curated the 1987 show, this is because the whole point of the Biennial is to provide as current a survey of the contemporary art world as possible.
"In some ways, it's really made for a young curator," Ms. Phillips said. "This kind of exhibition, that's looking at the present moment, benefits from having that fresh perspective, and from having the point of view of someone who is just getting established and is really in touch with the work of their peers."
Which is to say that Mr. Carrion-Murayari's age does not, in itself, make his appointment unusual. What does is the fact that he has been matched, one-on-one, with a curator as seasoned as Mr. Bonami, who at, 54, has enjoyed a long and distinguished career that includes serving as a curator at the Museum of Contemporary Art in Chicago, directing the 2003 Venice Biennale and editing the U.S. edition of the magazine Flash Art. The intergenerational partnership between him and Mr. Carrion-Murayari is unprecedented in recent Biennial history, and when it was announced in December of 2008, many in the art world assumed that they were looking at a mentor-apprentice situation rather than a collaboration between two equals.
But Mr. Carrion-Murayari and Mr. Bonami insist that their work on the Biennial has been marked by total equality. In Interview last month, Mr. Bonami said that while he initially made a point of asserting himself as the "head curator," it quickly became clear that he and Mr. Carrion-Murayari would be making every decision together, without regard for hierarchy.
Mr. Carrion-Murayari attributes this improbable dynamic to their preexisting relationship, which began several years ago when they worked together on a Rudolf Stingel retrospective that traveled in 2007 to the Whitney from the MCA. Mr. Bonami came away from that experience impressed, and afterward took an interest in Mr. Carrion-Murayari's work, helping him place pieces in art magazines and getting together with him regularly for drinks.
When the Whitney people asked Mr. Bonami if he wanted to work with someone in-house, he said, Mr. Carrion-Murayari was a "natural choice." The fact of his age, in Mr. Bonami's view, was only an advantage, the idea being that Mr. Carrion-Murayari would be there to call the old geezer out when it seemed like he was following impulses rooted in nostalgia and habit.
"He's half my age, so he has a fresh mind," said Mr. Bonami by phone from Italy. "I have a completely dusty one. When you're a curator, the risk is that you start to believe your own act and you start to think that everything you think is the right thing."
The difference in age and experience separating the two curators has been something of a running joke: At a meeting with the Whitney board where the two of them introduced themselves to the museum's trustees, Mr. Bonami is said to have listed his accomplishments, before turning to Mr. Carrion-Murayari and saying that he had no history to speak of.
What little history he does have is set entirely at the Whitney, where he has been working ever since he graduated from Colgate University with an art history degree and got an internship there under curator Chrissie Iles.
"I didn't just say, 'Do the filing,'" Ms. Iles said of her early days working with Mr. Carrion-Murayari. "We sat and talked a lot, and I would ask his opinion on things. We'd go to shows together, and he would always have a very clear, considered opinion."
She quickly recognized in him an uncommon talent for picking out great work, and has been training him ever since.
As an intern, and later as a curatorial assistant, Mr. Carrion-Murayari worked on numerous shows with Ms. Iles, including the 2004 and 2006 Biennials. By the time he was called up to serve at Mr. Bonami's side on the 2010 Biennial, he had already curated a show of his own—"Television Delivers People"—and was working on two others.
The first thing Mr. Carrion-Murayari did after accepting the gig was sit down and make a list of artists he was interested in. Then he started asking friends around the country to recommend artists he and Mr. Bonami should meet with and consider including in the show. Before long his in-box started filling up with emails from dealers and artists lobbying for his attention. He started staying later and later every day at the museum, and was eventually compelled by the long hours to move from his apartment in Red Hook to Astoria because the once tolerable commute had become unmanageable.
Since then, Mr. Carrion-Murayari has flown all over the country with Mr. Bonami, meeting up with art world friends and trusted satellites in cities like Los Angeles, Portland and Chicago and visiting dozens of artists at their studios. On the road, Mr. Bonami said, he found himself struggling to keep up with his sidekick in the eating and drinking department.
"I'll probably have a heart attack after this show," he said. "He can eat things that I'm not supposed to eat." One thing that hasn't really happened is fights. In fact, neither Mr. Bonami nor Mr. Carrion-Murayari could think of a single time the two of them strongly disagreed on something. All of which sounds nice, but seems to undermine the idea that pairing a veteran with a rookie would create a productive tension and make the Biennial more fresh as a consequence.
Asked whether he thought the age difference between him and Mr. Bonami had contributed to the character of the show in any way, Mr. Carrion-Murayari said he wasn't sure. "I think it could have, if it had been different people," he said. "Maybe we'll have some disagreements during the installation."