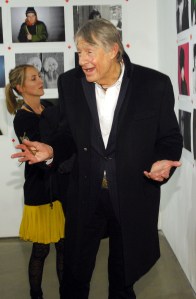 PARK CITY, UTAH—On the evening of Friday, Jan. 29, Curtis Jackson—better known as the rapper 50 Cent—was milling about the red carpet before the premiere of Twelve, director Joel Schumacher's adaptation of the 2002 novel of the same name, which wunderkind New York author Nick McDonell penned when he was 17.
It was Mr. Jackson's third time at Sundance, but his first starring in a closing night film.
"Speedy turnaround, right?" he said.
In Twelve, which sold to Hanover House last week for $2 million, Mr. Jackson portrays a Harlem dealer named Lionel, who supplies a 17-year-old high school dropout—played, quite appropriately, by Gossip Girl's Chace Crawford—with drugs to sell to all of his privileged former classmates on the Upper East Side. In one scene, Lionel gets killed while a young girl exchanges her virginity for a new super drug.
"I don't mind dying in films," said Mr. Jackson, amid an explosion of flashbulbs, "'cause you get up after they say, 'Cut!'"
Unlike Mr. Jackson, Mr. Schumacher, who is 70, said he had never been to Sundance before, and he was proclaiming over and over that he was "the world's oldest student filmmaker." His hair was streaked with gray to the chin, and he was dressed in a denim shirt under a double-breasted black wool blazer, and a hemp necklace a shade lighter than his tan.
Mr. Schumacher, who grew up in Long Island, said he was drawn to the material of Twelve, which has its violent climax inside an Upper East Side palace crammed with 400 Marc Jacobs-clad teens, as soon as he read the galleys back in 2002.
"It smacked of the truth," he said. "It's a story where the characters are concerned more with celebrity than accomplishments. It's really a portrait of bad parenting. It's the same story in every high school, in every town." (The film ends with a quote from Camus's The Plague: "After all…there is more to celebrate in the human being than to denigrate.")
Twelve is ranked dubiously in a critics' poll on IndieWire. But at Friday's premiere, John Cooper, the new programming director of Sundance, introduced the film by proclaiming that its cast was perhaps "the most beautiful in the history of the festival."