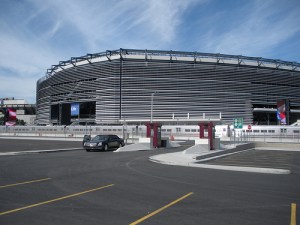 In an ironic turn, Arizona is apparently worried about the security costs of hosting a Super Bowl, and has therefore dropped its bid for Super Bowl XLVIII (which is to occur in 2014—or MMXIV, as they say in the league).
Which means, of course, that the game should be held somewhere safer—like, say, New York.
The decision by the Grand Canyon State leaves the Meadowlands, and its new football field, as the most likely host for the big game, according to the Post. If that happens, it would be a minor coup for local leaders, and a regional shift for the NFL, which prefers to enjoy early February in one of its warmer cities. Or, at least, to spend its time indoors: The only cities north of the Mason-Dixon line to ever host the game—Minneapolis, Detroit and an upcoming one in Indianapolis—all play in domes. New York's new stadium, it should be noted, is open to the elements. Something tells us Rex Ryan is currently trolling the Web for a new Jets parka in XXL.