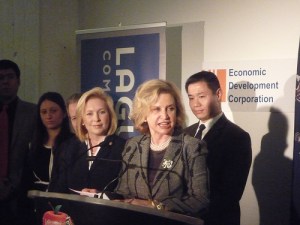 Reshma Saujani kicked off her congressional campaign standing on a bench inside a coffee shop on 13th Street called "Everyman Espresso."
The next morning, Rep. Carolyn Maloney hosted a star-studded fund-raising breakfast at the Yale Club that brought in about $100,000, her aides said.
The Democratic primary on Manhattan's East Side is officially underway–which is something of a rare occurrence. (The district covers the Upper East Side, where Ms. Maloney lives, parts of the East Village and parts of Queens.)
Saujani, 34, characterized herself as a standard-bearer for a younger, newer generation ready to take the reigns from their predecessors.
"This is a new decade and we need a new direction," she said, standing on a bench in the back of the coffee shop.
"We need to put aside the policies of the past and start building the future because we are the future. That's going to take new ideas, new leadership and new bridges."
While she didn't mention Maloney by name, Saujani did take two policy shots at the incumbent, one for inaction on financial regulation and not taking a more public role in defending abortion rights [clarified].
"It has been over 18 months since Lehman happened, and we have yet to pass a financial regulation bill in Congress," said Saujani. "That is inexcusable."
Later, Saujani criticized the Stupak amendment which some Democrats, voted for. Maloney though, was not among them [fixed]. If approved by the Senate, it would restrict federal funding for abortion.
"We need real leadership on core Democratic values. Surrendering a woman's right to choose as a bargaining chip in a health care bill should never have been acceptable," said Saujani.
The following morning, Maloney, a nine-term incumbent, had a fund-raising breakfast that featured a who's who of notable women in the Democratic Party. There was feminist Gloria Steinem, City Council Speaker Christine Quinn, Rep. Nita Lowy of Westchester, and former City Comptroller Liz Holtzman.
"Carolyn Maloney is a trailblazer who keeps blazing new trails," said Quinn, in a public statement.
"We're fortunate to have Carolyn in Congress breaking new ground in the fight to reduce violence against women," said Steinem.