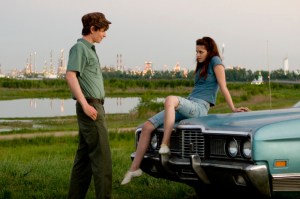 The Yellow Handkerchief
Running time 96 minutes
Written by Erin Dignam
Directed by Udayan Prasad
Starring William Hurt, Maria Bello, Kristen Stewart, Eddie Redmayne
Three Eyeballs
Wonderful, honest and low-key performances inform and enhance The Yellow Handkerchief, an otherwise unexceptional little drama that transposes a 1971 story by Pete Hamill to a backwoods road trip through South Louisiana in the aftermath of Hurricane Katrina. With tired eyes, a hesitant stoop and thinning hair, William Hurt makes only occasional appearances in films these days, but he's forgotten nothing about the kind of niche acting that informed his early work and won him a coveted Best Actor Oscar. Balding and tattooed, he plays Brett, a convict released from prison after serving a six-year sentence for manslaughter. Brett is a tough cookie with a soft maraschino in the center, trying to find his way home, and it takes almost all of the film's 96-minute running time before you learn why he ended up behind bars in the first place—but you know he was innocent the whole time. Meanwhile, he shares a convertible with a runaway girl named Martine (Kristen Stewart) and a sensitive, misunderstood Native American teenager named Gordy, played by Eddie Redmayne, the rising young British actor who started his career playing Shakespeare and made a scalding impression as Julianne Moore's incestuous gay son in the shocking Savage Grace. During their journey across the muddy Mississippi on a ferry heading toward New Orleans, the ex-con protects the kids from hostile rednecks, a paternal act that leads to an altercation with cops who detain him for driving without a license; the girl lets her hair down long enough to show how much she needs the guidance of a real father; and the boy lowers his guard to reveal deep loneliness and alienation.
As the three total strangers bond, we get flashback glimpses of the older man's confrontational, on-again, off-again relationship with his long-suffering wife, May (another winning role for the exceptional Mario Bello). The scenes between Mr. Hurt and Ms. Bello throb with intensity. His restlessness and newfound independence in his first real relationship and her resentment and fear of commitment meld with understated realism. All three travelers share one thing in common—they've failed at life but they're still looking for love.
The Yellow Handkerchief is sometimes so slow it threatens to halt, and it's often marred by choppy editing, an uneven and awkward narrative, and too much irrelevant local color (alligator sightings, swamp cafes and motel chatter). But compared to this film's real pleasures, these caveats are minor. Erin Dignam's authentic-sounding script and sympathetic direction by Udayan Prasad turn small moments into poignant character revelations. The cinematography by renowned cameraman Chris Menges has a depth and a resonance of its own. In an age when everything is instantaneous, from dating online to communicating electronically in dozens of ways that require neither human contact nor verbal exchanges of any kind, it's refreshing to see people falling in love by actually getting to know each other. The title refers to a promise the wife makes, to leave a yellow handkerchief outside their houseboat if she still wants him back after prison. The kids help him find his way home after many arduous detours, and there they are—20, 30, maybe more yellow handkerchiefs waiting for his return. Bring out the Kleenex.