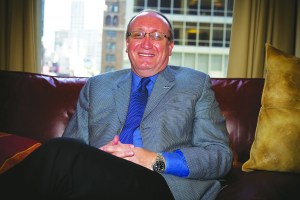 The Commercial Observer: So, are you about to have more time on your hands?
Mr. Mosler: I certainly will have more time to devote to business development, which is what this was all about. At the end of the day, this was a move to get me to client interface; to develop, for lack of a better way to articulate it, a key client care program so that I can help mature some of the large institutional relationships and cross-sell them into other services; and, most importantly for me, to make a difference right here in the Northeast region and particularly in New York in securing large-end portfolio types of businesses.
In a way, you're going back to your roots, aren't you?
It's certainly getting back to my passion and my beginnings in the sense that, as any former broker, I built my reputation on how we service the client and the ability to proactively secure business. There's certainly an element of that.
Do you expect to have any extra personal time?
I don't think I'll be looking at a lot of free time, because I think the business opportunity is enormous in this environment. This is an environment where clients really need to look for advice, and for someone who has seen the cycles, there's a distinct competitive advantage for anyone who can put this climate in perspective. But I don't expect to have a bunch of free time. I also expect to be able to help and support our new CEO if and when he chooses.
Do you and Glenn share a history?
We actually don't share a history, but Glenn shares a history with the firm and therefore, by osmosis, with me as the former CEO. But we have mutual friends who we both know. But in my time in which I've spent with Glenn, I think he's going to be spectacular in his role and bring a different perspective to Cushman & Wakefield than we've had before, as a business that's been led by former brokers or former counsels. I think this is a fresh perspective in what he has as background.
Anything you regret or are particularly proud of during your tenure as president?
It's hard to talk about yourself in terms of your accomplishments because I don't really look at it that way. I think that when I took over for Arthur Mirante, the business was about 80 percent domestic and 20 percent international in terms of revenue breakdown. But he had already put the seeds in place to see growth in international revenue, and so I tried to support that business strategy, and then I amended it as I went along in terms of where I saw the opportunities emerging. But one of the objectives I had was to diversify revenue. And when you look at the acquisitions we made in Canada and in Russia and in other places in the emerging markets, where now our revenue is 50-50, that's an objective that's been helpful to the firm.
What are you going to miss at the day-to-day level?
When you've had the privilege-and it's an enormous privilege to lead a business with global reach-I will miss visiting people and immediately being drawn into the opportunity of the day. Just from my perspective, I always enjoyed delivering the message as to where the firm was going and the vision, and I enjoyed the interaction with the people. So I'll miss some of the folks I know and consider great friends today. On the flip side, I'm sure I'm going to have the chance to facilitate and help in other capacities, which will be nice as well. I'll also enjoy spending a little more time concentrating my business efforts rather than spreading them over the broad swath.
What clients are you going to be working with right off the bat?
One that we recently announced is to help reposition Charles Cohen's portfolio-four buildings. We've been hired to advise and to be the exclusive leasing agent for 805 Third Avenue, 622 Third Avenue, 3 East 54th Street and 3 Park Avenue. At the end of the day, I'm pursuing other new business that I can't disclose at this point because we haven't secured it, but we're working on a lot of interesting opportunities.