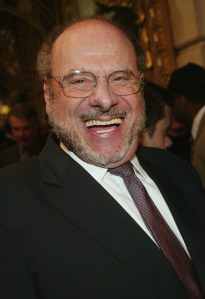 Under Peter Gelb, the Metropolitan Opera has been focused on the fresh and the new, streaming out spiffy high-def broadcasts of its elegantly marketed new productions. But this week brings to the company a blast from the past with the return of a familiar face. Joseph Volpe, who served as the Met's general manager from 1990 to 2006 and authored a memoir about the experience called The Toughest Show on Earth, has been hired by Mr. Gelb, his successor, to represent the company in upcoming contract negotiations with its three major labor unions.
The unions were informed of Mr. Volpe's hiring on Tuesday, Alan S. Gordon told the Observer in a phone interview. Mr. Gordon is executive director of the American Guild of Musical Artists (AGMA), which represents the Met's principal singers, choristers, directors and production personnel. "Volpe has a lifetime commitment to the Metropolitan Opera and cares about it," Mr. Gordon said. "Gelb recognizes that and understands that Volpe, however tough a negotiator he might be, will be deal-oriented." Mr. Volpe referred inquiries to the Met, which did not respond to requests for comment.
According to Mr. Gordon, Mr. Volpe's hire was a response to a growing sense within the Met that negotiations with the unions, particularly the orchestra's, could end in a strike. "There seemed to have been a climate of fear developing among the orchestra members," Mr. Gordon said, "that the negotiations were going to be so difficult that they woud end up in a lockout or strike. Gelb's hiring Volpe clearly sends a signal that his goal is to make a deal, not to have a lockout or strike."
Mr. Gelb's relations with the unions have not always been been peaceful. Last spring, Mr. Gelb asked the unions to accept a 10 percent pay cut as part of a company-wide response to the recession. Instead, the stagehands' union would only agree to postpone a promised salary increase in exchange for an extra year on their current contract. Both AGMA and the orchestra's union declined to negotiate unless the Met allowed them to confidentially audit the company's finances. And in October, there was a dispute between the Met and the stagehands' union over the division of labor in constructing the sets for the Met's upcoming new Ring cycle.
The hire is a tacit admission from Mr. Gelb, whose background is in marketing and who had never run an organization before coming to the Met, that he is still a relative newcomer to the machinery of managing one of the world's largest arts institutions. Mr. Volpe, by contrast, started his Met career in 1964 as a carpenter, rose through the ranks, and was widely praised during his tenure for maintaining amicable labor relations, including the negotiation of the current contract, which expires in July 2011. As Mr. Gordon said, "Gelb's expertise is in media and not necessarily in labor relations. … Volpe has a much longer knowledge base about the Met and how the various unions interact with each other."
zwoolfe@observer.com