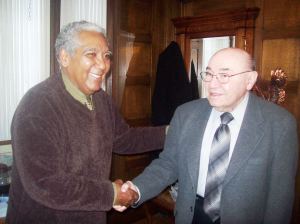 NEWARK – The lives of two Newarkers – one Black and one Italian – intersected, first at the beginning of their political careers when they ran against each other in an epic 1963 Essex County Senate contest, literally the last of its kind; and again last week when the two men sat together at the North Ward Center across a monumental arc of shared history.
Two street guys who built their respective bases as old school watering hole and barber shop campaigners, the fact that Robert Sarcone and George Richardson came from different parties didn't matter as much as their earliest calculations to pursue different political objectives: the former as the man who would-be governor and the latter as a relentless social agitator.
Both irrepressibly creatures of Newark, "We were the outsiders," said Richardson, 80, of himself and the 84-year old Sarcone. "Back then there was this major thrust to get involved and get the community involved, and from the beginning we always had a good relationship."
They met for the first time in over 40 years last week at a reunion arranged by North Ward Democratic leader Steve Adubato, Sr.
"Bobby Sarcone was the hope of our community," Adubato said. "George Richardson was a pioneer – the first serious political person we ever had."
A Republican from the North Ward, Sarcone inspired a generation of striving Italians, one of a local triumvirate of North Ward talent that included Mayor Hugh Addonizio and Congressman Peter Rodino. A star football player – "offense and defense in those days," who graduated with the first class of Barringer High School, Sarcone served with distinction in WWII as a naval officer, and returned to North Newark where he established a thriving law practice and engaged a family passion for politics.
"He was a dynamic campaigner, very articulate and very well respected and loved in the community," said Assemblyman Ralph Caputo (D-Belleville). "He was the prototype for that political era where people actually campaigned, when there was no computerized mailing. It was a physical thing. You had to be very close to the communities you served, and very organized. Society was different. There were half a million people in the City of Newark and it was a boiling point of politics.
"I tried to model myself on Sarcone," Caputo added. "I loved him."
After breaking into the Assembly as the only Essex Republican in 1959, Sarcone rose fast, becoming minority leader in 1962 when he saw his shot to move to the upper chamber. Of course, that shot wouldn't come without a fight, a condition Richardson knew intrinsically, although his own struggles increasingly were with his own party.
Born in Down Neck to African American parents who moved to Newark from the Deep South, Richardson immersed himself as a young man in Democratic Party politics following his bad conduct discharge from the Air Force for drug use. A hard luck street kid turned success story as an undaunted community leader, he forced his way into elected office as the only African American to serve in the Assembly during the Kennedy years.
His perceived radical tendencies and penchant for delivering civil rights speeches on the floor of the Statehouse quickly ran him afoul of the Essex County bosses, who in Richardson's view were more focused on the Passaic Valley Sewerage Authority than "I have a Dream."
Just as jittery was Mayor Hugh Addonizio, who made the 29-old Central Warder his commissioner of insurance, then six months later watched in horror as the upstart black joined a police brutality protest in front of City Hall.
"George, you can't do that," a visibly hurt Addonizio later told him. "You go out there like that, that means you're against me."
"I'm not against you," Richardson objected. "I'm against a pregnant woman getting beaten up by the cops."
Addonizio commiserated with legendary Party Chairman Dennis Carey, who in 1953 took charge of a county with a freeholder board that at that time was 9-0 in Republican hands, drove the first Essex Democrat in 47 years into the senate in 1955, and by 1959 had transformed Essex into a Democratic Party stronghold.
Of course, Richardson was already giving him fits.
This was in the days when it was one senator per county – 21 Senators total. Assemblymen were supposed to be nobodies, a concept Richardson apparently didn't grasp.
But Carey had another problem too as he headed toward the 1963 election, and that was his top of the ticket candidate, state Sen. Donal Fox, his onetime crowning glory. Carey and Fox constantly squabbled over sewerage authority appointments before the exasperated chairman finally decided to cut the senator loose – along with Richardson. Assembling a new ticket, Carey dumped the pair of recalcitrants and made Assembly Speaker Elmer Matthews, a book smart lace curtain Irish attorney born in South Orange, his senate candidate.
"Dennis Carey had big plans for Elmer Matthews, who was a polished Notre Dame grad and rising star in his own right," said Assemblyman Tom Giblin (D-Montclair). "I think Dennis Carey believed Matthews was a future governor."
Running with Matthews was an up-and-coming Irish immigrant out of the West Ward named John Cryan, father of future State Party Chairman Joseph Cryan.
Jettisoned by the organization, Richardson promptly filed to run for the senate as a New Frontier Democrat.
"We were taking our cue from what was happening down south in the civil rights movement," said Richardson, who attended the 1963 March on Washington. "Imagine – a northern city like Newark without a black anything: no black sales clerks, no black bus drivers. We needed something to confront that."
He knew he couldn't win. He wanted to give his party a jolt.
Following up on his earliest efforts to unite business leaders in the cause of building an integrated work force, Richardson ran as the leader of a slate of African American and Latino candidates.

Left to right: Steve Adubato, Sr., George Richardson, Robert Sarcone, Assemblywoman Grace Spencer (D-Newark), and Essex County Clerk Christopher Durkin
A former Addonizio campaign manager who enjoyed the mayor's friendship in addition to deep neighborhood sympathies, Sarcone ran in Democratic Essex as a cross-over candidate, aided by the public's distress over Gov. Richard Hughes's $750 million Turnpike bond issue, and – thought many observers – Richardson's decision to run as a kamikaze.
"Party didn't matter to Italians who backed the candidacies of Addonizio, Sarcone, and Rodino," said Caputo. "There was a tremendous ethnic affinity toward all three of them."
On Nov. 5th, 1963, Sarcone won 125,836 votes to Matthews's 109,934. Richardson trailed with 10,057 votes. Matthews won only Irvington, Newark and Orange, but won Newark overall by 17,000. The Assembly seats split: five Republicans and four Democrats. Four years earlier, Fox had beaten his Republican opponent, Alfred C. Clapp, 126,800 to 112,218.
Although Matthews romped in Newark, part of his disadvantage, agree his two rivals, was his inability to circumvent the suburban tag and shed his image as an upper-cruster.
"The Italian factor with Sarcone at that time was big," affirmed Caputo. "If Elmer hadn't run against an Italian, he might have won."
But Sarcone thinks the bond issue was the most significant propeller to his own win.
"I was opposed to the bond issue," he said. "Matthews supported it, and so did George. But it was unpopular, mainly because it was put together in a very flimsy way. It was defeated; in fact, the bond issue even lost in Essex."
Trailing Democratic Party bitterness despite the numbers' revelation that he wasn't really a spoiler, Richardson went back to his community organizing roots and work as a barkeep at Knobby's on Bergen Avenue.
"I wasn't playing politics, I was trying to inject civil rights into politics," he said. "We were running to prove a point and to have our voice heard."
Retired as a lobbyist, the 82-year old Matthews now lives down the shore with his wife, Peggy.
Triumphing over divided Democrats to strengthen a GOP majority in the senate, Sarcone's star power wattage brightened considerably amid growing Scott Brown-like buzz that was unmistakable to a hobbled Hughes, who was simultaneously stunned by the loss of Democratic Party control in the Assembly for the first time in six years.
Then, exactly 17 days after the election, JFK was shot in Dallas.
"I was at a table with a senator from Atlantic City and I was speaking, and someone came over and whispered, 'The president was shot,'" said Sarcone. "There was a chill. And the committee was suspended."
Later, Sarcone received a gut-check phone call from Hughes.
The governor wanted to know if the charismatic new senator from Essex County and his wife would visit him at Morven (then the governor's residence).
"We had dinner, it was very nice," Sarcone recalled. "Hughes was a terrific guy; and then afterwards, we're sitting there and the governor said to me, 'Bobby, you have to promise me one thing. You have to promise me you won't run against me for governor.
"I liked Hughes. I got along with him. I'd have to say he was my favorite governor."
"Mine, too," said Richardson.
"I told him I wouldn't run against him," said Sarcone. "So the Republican Party nominated Wayne Dumont in 1965 and Hughes clobbered him."
Sarcone added, "I think I could've beaten him. I would have won Essex."
The Constitutional Convention of 1965 eliminated the one senator per-county model and just two years after his spectacular victory, Sarcone lost his senate seat, bounced by a classic Carey ticket consisting of an Irishman, Italian, Jew and Black: respectively Freeholder John Giblin (father of the assemblyman), former Judges Nicolas Fernicola, Maclyn Goldman; and physician Hutchins Inge (the first African American to serve in the state Senate), who became the new senators representing Essex.
Moreover, old timers say the ever brilliant Carey worked overtime to make sure Addonizio got up for the Democratic ticket, cramming the slate with Addonizio patronage people and allies even closer to him than Sarcone, including the mayor's own brother as an assembly candidate.
A skilled politician who used to wear down his adversaries with a combination of drinks and charm, the post Civil Rights Act Carey finally grumblingly admitted Richardson had been right and threw the unreconstructed nonconformist onto a 1967 candidates' slate – Richardson's ticket back to the Assembly, two years after Sarcone's exit.
Intent on a statewide run even 12 years after leaving elected office, Sarcone ran in the 1977 gubernatorial primary. Ray Bateman ran over him, while a new GOP rising star from Essex County, Tom Kean, performed strongly enough in losing to earn a shot at the 1981 nomination.
"I shouldn't have run," said Sarcone. "I was talked into it be a group of people, and it was a disaster. Two GOP guys running from Essex County.
"Timing is important," he added.
Richardson backed Ken Gibson over an unraveling Addonizio in the 1970 mayor's race, and took his lone stab at a congressional run, perhaps inevitably proving an independent entity again as he broke from Black Power poet/activist Amiri Baraka and split the black vote with William Hart of East Orange, Baraka's candidate from the 1970 Black and Brown Convention.
"I got beat up too," Richardson told Sarcone with a laugh. "I ran against Rodino for Congress and I loved Rodino, but this was a Democratic Primary and I remember a campaign slogan I used that still bothers me a little bit. I know it bothered Pete. 'Rats, Roaches and Rodino.' Anyway, he was popular in the black community. He beat me."
And Rodino beat Hart, who was unable to get around Richardson.
His political career finally decisively over after his ill-fated gubernatorial attempt, Sarcone focused exclusively on the law, which he practices to this day.
Richardson augmented his life with a regimen of meditation and moved with his wife, Ingrid Frank, to Harlem, to pursue community organizing. The pair run a grassroots operation called Periscope Associates, dedicated to counterpunching the Fox News channel and cultivating positive hip hop musical/political acts.
"(This effort) takes direction," said Richardson. "It takes unity of purpose. It takes your imagination to write the songs, to spin the dreams, to spit the words that encourage, that inspire, the create the changes you want to see.
"President Obama took the leadership during one of the worst crises our nation has ever faced." he added. "Two questionable wars. The failure of our banking system. A health care system that doesn't work for millions. Bankrupt industries. A failing schoool system. High unemployment. A corrupted housing industry. And the list goes on. Making matters worse are the skeptics, doubters and me-firsters, the Rush Limbaughs, the Glenn Becks and Tea Partiers and their like, who fill the airwaves and the internet with their fears, doubts and hatred."
After the al dente pasta and vegetable dish the men drank coffee with Adubato.
"When I grew up, Down Neck was mostly Italian and I loved Italian food," Richardson said. "This Italian buddy of mine loved soul food. And this was the way Newark was then – I used to go over to his house to eat Italian and he would come to my house to eat soul food, on the same night. I'd be eating in his house and he'd be eating in my house. Newark."
Adubato reminded Richardson that as local chairman of the Democratic Party in 1970, he backed Gibson, the city's first black mayor, over Addonizio.
"That took courage," said Richardson. "But you were always independent, like me."
"Damn right," said Adubato. "And now, Obama as president – you couldn't dream that, could you, George?"
Adubato turned to Sarcone on the other side of the table.
"And, hey, Bobby – an Italian governor from Newark, eh?"
Born in the city in 1962, Chris Christie was a toddler that same year Sarcone, Richardson and Matthews warred with one another. The day after he beat Jon Corzine in the governor's race last year, the Republican appeared beside Adubato in the North Ward and spoke of his commitment to the city's children.
Someone at the table objected: Christie's a mix – not 100% Italian.
Adubato shot back, "He's Italian," adding to the table at-large, "Obama and Christie, and Menendez, a Latino – in the U.S. Senate: we're a lot better than we once thought we were, aren't we?"
The other two Newarkers agreed.
And leaving Adubato later in the North Ward, Sarcone went back to his law office in Belleville and Richardson grabbed a train bound for Manhattan, having shared an hour, an era, and origin, in Newark.