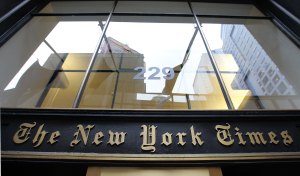 No longer content to fight against a flood of negative publicity with cutting ripostes, the spokesman for Goldman Sachs, Lucas Van Praag, took to the Huffington Post yesterday to write a detailed response to the Sunday Times' front page story about the much-maligned bank, and its call for more collateral from its insurer, AIG.
"This is the third theory the paper has put forward since September 2008," Mr. Van Praag wrote. "The theories are contradictory and many of the supporting "facts" don't stand up to serious scrutiny."
But, according to Timothy O'Brien, the Sunday Business editor for the Times, it's Mr. Van Praag's own analysis that misrepresents the paper's story. "I think almost all of Lucas' responses to our piece in his note to the HuffPost were already reflected in the story itself. I don't think any of his responses contradict or undermine the exploration of Goldman's relationship with AIG, as laid out in Gretchen Morgenson and Louise Story's deeply reported piece," he wrote in an email to the Observer this afternoon.
Of the nine "NYTAssertions" highlighted by Mr. Van Praag–along with corresponding responses labeled "The facts"–Mr. O'Brien took exception to one, in particular. From the HuffPo entry:
NYT assertion: "In addition, according to two people with knowledge of the positions a portion of the $11 billion in taxpayer money that went to Societe Generale, a French bank that traded with A.I.G, was subsequently transferred to Goldman under a deal the two banks had struck."
The facts: The assertion is false and misleading. Goldman Sachs provided financing to many counterparties, but in that role we would not have known whether a counterparty had obtained credit default protection, let alone from whom or in what amount.
"Louise Story asked Lucas to go on the record twice to comment on that issue and Lucas declined," wrote Mr. O'Brien in an email to the Observer this afternoon. "Although he's decided to go on the record on the matter after we published our piece, he's still not actually addressing what we wrote."
Mr. O'Brien said the story never claimed Goldman provided financing for Societe Generale. "Rather, it is our understanding that Goldman purchased AIG insurance on mortgage positions from SocGen, insurance SocGen itself had purchased from AIG at an earlier point in time. When the US government bailed out AIG and reimbursed SocGen, Goldman and other firms at 100 cents on the dollar for their AIG contracts, it is our understanding that a portion of the amount paid to SocGen was then channeled to Goldman," he wrote.
Mr. O'Brien also wondered how–if Goldman doesn't know whether a counterparty purchased credit default protection–Mr. Van Praag could assert the Times' report was "false."
Mr. O'Brien's response, in full:
I think almost all of Lucas' responses to our piece in his note to the HuffPost were already reflected in the story itself. I don't think any of his responses contradict or undermine the exploration of Goldman's relationship with AIG, as laid out in Gretchen Morgenson and Louise Story's deeply reported piece (which I edited, along with BizDay editor Larry Ingrassia).

Lucas wanders a bit in one of his responses, regarding Goldman's trading relationship with SocGen. Louise Story asked Lucas to go on the record twice to comment on that issue and Lucas declined. Although he's decided to go on the record on the matter after we published our piece, he's still not actually addressing what we wrote.

To wit, we didn't write that Goldman provided financing to SocGen, as Lucas states. Rather, it is our understanding that Goldman purchased AIG insurance on mortgage positions from SocGen, insurance SocGen itself had purchased from AIG at an earlier point in time. When the US government bailed out AIG and reimbursed SocGen, Goldman and other firms at 100 cents on the dollar for their AIG contracts, it is our understanding that a portion of the amount paid to SocGen was then channeled to Goldman.

As a reminder, here's what the story actually says: "In addition, according to two people with knowledge of the positions, a portion of the $11 billion in taxpayer money that went to Société Générale, a French bank that traded with A.I.G., was subsequently transferred to Goldman under a deal the two banks had struck."

Furthermore, it appears that Lucas contradicts himself in his rebuttal. He says that Goldman "would not have known whether a counterparty had obtained credit default protection, let alone from whom or in what amount." If that's true, then how is Lucas able to say that what our reporters wrote is "false"?

All best,

Tim