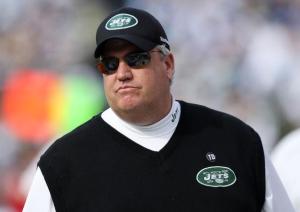 Fifty thousand dollars. That's what Rex Ryan owes the Jets for displaying his middle finger to some taunting Dolphins fans in Miami.
Mike Vaccaro declines to take the high road on this one.
I have to be honest: I think I probably flip someone the bird in that spot, but then I've never been guided by the better angels of my nature nearly as often as Sister Mary McCauley would have liked. Maybe that means I get a fist to the jaw or an invitation to step outside, maybe someone keys my car in the parking lot, whatever. It's what sometimes happens in rowdy rooms. And that's me being me.
But he doesn't like the idea that the Jets were the ones to levy the fine, since they've been lapping up the all the attention Ryan has drummed up since they hired him. Of course, the Jets might actually be trying to save Ryan money. With the NFL watching to see what the Jets do, the team might have been trying to give Ryan the lowest possible fine that would keep him from getting a second fine from the league. And, for that, $50,000 dollars sounds about right.
The Post uses Vaccaro's column as an excuse to run the infamous photo on the back cover again, this time under the headline "50Gs FOR THIS?" (The Daily News, on the other hand, runs a photo of Ryan looking sad, with the head "GOLD FINGER.")
Absent Ryan, the Post almost certainly would have gone with Plaxico Burress on the back. In a triple-bylined story reported from two different states, we learn that Bill Cowher conducted a jailhouse interview with Burress, in which the former wide receiver vows to play again some day, and says he works out four days a week.
"It's not LA Fitness or Bally's, but I do push-ups, sit-ups," Burress said. "I make do."
Jeremy Shockey is glad to be playing again–instead of watching the Super Bowl from the sidelines. Both papers have a columnist tackle the Shockey angle, and the results are about the same. Steve Serby asked him about New York.
"I'm not used to seeing cameras, paparazzi. … In New York, that seemed like it was everywhere. Page Six, your guy, New York Post. It was a pretty different mentality what I had compared to what I envisioned. But in a good way."