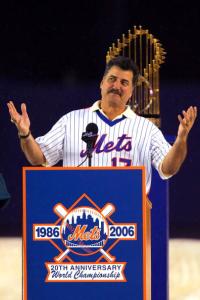 The Winter Olympics open tonight, but let's keep it local.
Bob Raissman writes a Day Two column about Keith Hernandez tutoring Mets' first baseman Daniel Murphy. How will Hernandez handle mistakes from his young protégé?
Will Hernandez hammer Murphy? Will he rip himself for providing a lousy lesson plan?

He better say something. Any sign of Hernandez pulling punches will open the door for anyone claiming a double standard, that Hernandez is becoming a windy shill.
Will the quintessential "anti-homer" soften up? Well, as Raissman points out, this is the same guy who once called the team heartless and got in a scuffle with shortstop Jose Reyes, after Hernandez called him a child for throwing his glove down. So, let's set the odds at unlikely.
Is Hernandez the Mets' patron saint? You could make a good case for it. But Joel Sherman makes a counterintuitive pick.
[T]he Mets should take A-Rod as their patron saint. This is an organization that is particularly sensitive to media/fan criticism. But as badly as the Mets want to change their perception as miserly and bumbling, they can't. Not today. However, Rodriguez is the symbol that a year from now we don't have to be talking about Madoff or choking, inept roster decisions or cheapness, medical faux pas or overbearing ownership.
The Mets' own Rodriguez—Francisco, the one on their roster—got outpitched by Hugo Chavez yesterday in Venezuela. Chavez gave up 7 runs in 2 innings of slow-pitch work; Rodriguez gave up 11 runs in 3 innings. Chavez's team won by a score of 14-12, a rather slight margin by his standards.
The Knicks' dictator, Donnie Walsh, said he's serious about bringing in Tracy McGrady. "The microfracture surgery is a concern for everybody. But he's a good player. . . . I've been realistic about these first two years and I'm not doing this for immediate satisfaction."
The Post takes that to mean McGrady might be Walsh's consolation prize if they can't land LeBron James, or Dwyane Wade, or some such younger, less-injured all-star. Of course, the Knicks already have one all-star, David Lee, who slid his way onto the team yesterday-—the first Knick to get the nod since 2001.
No big Jets news today! Which is an ironic, almost cruel turn, since today marks the last morning we'll be surveying your local sports coverage, and no team has loomed larger (cough) than Rex Ryan's squad over the last six or so months. But, to use an obligatory sports metaphor, every dynasty must wind down, so like the mid-'90s Cowboys after their coaching change, we'll be turning it over soon. Look for something new on Monday.