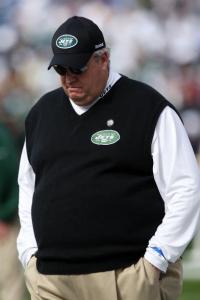 After a week of bland back covers–which coincided with the end of the Jets' season last Sunday–Rex Ryan came back to seize the spotlight. At a mixed-martial arts bout in Miami this weekend, Ryan flipped the bird to some Dolphin fans, one of whom captured the coach on his cell phone camera.
Naturally, this makes both of your back covers, but the Post gives it the entire front cover too. It's become a given that the Post works in a weight joke to every story about Ryan, so how do they do it here?
"Now the fat's in the fire," reads Mark Cannizzaro's lead. And then, a few graphs down: "Yesterday, the larger-than-life coach, who is known to consume 7,000 calories a day, served himself a helping of crow."
Ryan apologized, of course. But Steve Serby sounds legitimately offended. "In one flip of the middle finger, the rookie coach of the Jets went from loveable rogue to Super Boor," Serby writes.
Serby thinks Ryan may as well have flipped off Jets fans.
Richard Todd once gave the Shea Stadium boobirds the finger, and they never really forgave him. Yankees pitcher Jack McDowell gave Yankee Stadium fans the same treatment walking off the mound. The fact that Rexxx-Rated didn't flip the bird to his own fan base is irrelevant.
Seems like the Bud Adams incident from a weeks ago is a closer parallel. The Titans owner flipped off Bills fans and drew a $250,000 dollar fine. That was especially disturbing though, given that Adams is an 87-year old man and he was in the owner's box at a game.
Gary Myers echoes Serby, though he's not quite as indignant.
Ryan must be smarter. What would have happened if the fans had decided a physical altercation was the next course of action? It could have escalated into something ugly and dangerous.
Myers suggests a few alternatives.
Perhaps a round of golf, the dog track, jai alai or an early-bird dinner on Collins Avenue would have been a more appropriate environment for Ryan than an MMA event, which tends to get highly charged. The frat-party days are over. He can't be John Belushi in "Animal House."
Or, Ryan could follow Darrelle Revis, who, after playing in the Pro Bowl yesterday, isn't sticking around.
"I still have a bad taste in my mouth," Revis said after the AFC's 34-31 victory over the NFC. "I don't want to be around it [the Super Bowl hype.] I'm getting out of here. There are going to be a lot of Colts fans here — they're probably already here now. I just don't want to be around." Asked if he will head back up to New Jersey, Revis said: "I don't know where I'm going to go. Maybe I might go to China."

In any case, the latest Ryan imbroglio only heightens the tantalizing possibility–raised by Bob Raissman over the weekend–that HBO might pick the Jets for Hard Knocks next year.
HBO might also take a long look at the Saints. Yesterday, former quarterback Bobby Hebert walked the streets in drag, to fulfill the pledge of a late broadcaster who promised to do just that if the Saints ever made the Super Bowl. Mike Vaccarro likes it.
From that moment, America's Team was truly born. Forget the pre-fabricated notion of the Cowboys, or the cable creation of the Braves. The Saints will be America's home team Sunday in Super Bowl XLIV. They will be everyone's home team.