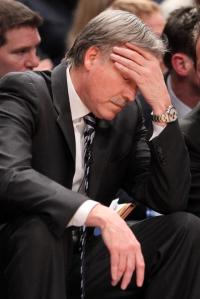 "OY VEY!" groans the back cover of the Post this morning, after the Knicks blew a lead on Jewish Heritage Night at the Garden.
The ostensible honoree–Kings rookie Omri Casspi, the league's first Israeli player–had 18 points for the visitors, who stormed back from 15 down to win 118-114 in overtime.
In explaining his team's play, Mike D'Antoni offered a twist on the old dogfighting metaphor.
"There's a lot of spirit went out of this dog and we're just not fighting," coach Mike D'Antoni said.
It's even worse news for Knicks fans that Donnie Walsh doesn't think he can clear any more cap space.
"I'm thinking of finances a lot and it seems like everyone's thinking of finances," Walsh said. "That's what I've been discovering. That's going to make it a little harder."
They've still got enough for LeBron James, but will he want to come to such a lazy dog of a team without an expensive sidekick?
The Daily News has a "DAYS UNTIL LEBRON GAMES CAN BECOME A FREE AGENT" box. The answer: 140 days. "The countdown continues," it says, but it doesn't look like this is going to be an everyday inset. More likely, it's just because the Nets lost to James and the Cavaliers last night: 104-97.
One day after Chris Douglas-Roberts called the Nets' season "hell," he got benched, which may be better and not worse.
The Mets are bringing "Anti-Homer" Keith Hernandez off the broadcast bench to help first baseman Daniel Murphy. It's all part of the '86 Reunion/Distraction Tour! says the Daily News.
The Mets have made a recent point of generating goodwill by playing up the increased involvement of '86 Mets. That includes Mookie Wilson being rehired as a minor-league instructor, Wally Backman managing the Brooklyn Cyclones and Tim Teufel's promotion to skipper of Double-A Binghamton.
Hernandez has helped out before, with both Todd Zeile and John Olerud.
"I've always said, outside of the pitcher and the catcher, the first baseman gets the most action in a nine-inning game. And you could lose a lot of ballgames there with a bad first baseman."