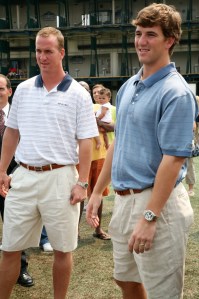 The Daily News is having a little internal squabble.
Mike Lupica gets the back cover story, which blames Peyton Manning for the Super Bowl loss, even though Lupica admits Manning didn't botch the onside kick or give Drew Brees all day to throw.
It doesn't change the fact that it is Manning who gets tagged with the "L" on this one. Same as he would have gotten the victory and the Pete Rozelle Trophy as MVP of the game if he'd brought the Colts back.
But Bob Raissman seems to think that's silly, at least when it's Chris Berman peddling the same kind of praise about Drew Brees–who Berman credits with defeating a string of big-name quarterbacks in this year's playoff run.
Brees played against these other marquee QBs, but he didn't recover that onside kick Sunday night. Nor did he intercept Manning's pass and return it 74 yards for the dagger.

Quarterbacks always get a disproportionate amount of attention – win or lose. So the notion that Berman, and others, were selling was understandable. Nonetheless it made absolutely no sense.
Really, it's always hard to tell how much to blame a quarterback for a loss like that. Lupica calls the pick-six that sealed the game "one of the worst interceptions in all of Super Bowl history." But was it really a mistake by Reggie Wayne? Should the receiver have made a quicker, harder inside cut to seal off Tracy Porter? Manning didn't say as much after the game, but he also didn't say it was a bad throw and take the blame.
In the Post, Steve Serby seems to be on Lupica's side. He pens a second-person column imploring Mark Sanchez to take the next step next year.
If Jets coach Rex Ryan intends on shaking hands in the White House with the president, then Super Bowl XLIV should serve as a reminder that he had better bring an elite quarterback to Super Bowl XLV.
That means you, Mark Sanchez.
Mike Vaccaro isn't blaming Eli Manning for the Giants' woes. Instead, he's preemptively blaming Osi Umenyiora for whatever happens next season, unless the Giants cut him.
But the best part about being the Giants right now is this: There is no noise and no distraction surrounding you, except that which bellows from Umenyiora (a problem they should simply do away with, and quickly).
Over in New Jersey, there's plenty of basketball blame to go around. Peter Vecsey defends Del Harris, who quit the Nets recently. Chris Douglas-Roberts can understand. What has this season been like? "Hell, really."