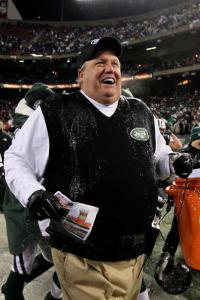 The controversy over Rex Ryan's middle finger appears to have passed. After the Jets levied a $50,000 dollar fine against the unruly coach, the NFL decided to back off. After days of drumming up headlines about the finger, the resolution gets two sentences in the Daily News.
The bigger Jets news is that Mark Sanchez talked about his impending knee surgery while he was down in Miami hanging around the Super Bowl. The surgery is "partially arthroscopic," Sanchez said yesterday.
"Don't sweat it," he said. "If you're in the New Jersey area, come by and bring some ice cream while I'm laid up."
Osi Umenyiora is sweating being a backup. He's threatening not to play if the Giants relegate him to the second team. The Daily News puts this on the back cover, but it's the Post that comes through with some insight. "Anyone who seriously believes Umenyiora is willing to walk away from a $3.1 million contract hasn't met him," writes Paul Schwartz.
Chris Duhon is now a backup for the Knicks, who should consider making a reality show out of Mike D'Antoni's roster decisions. The coach has a habit of banishing players to the bench for extended stretches only to bring them back later in a surprise appearance, which then knocks someone else off D'Antoni Island. Nate Robinson has apparently been brought back to take Duhon's place as the starting point guard after months of exile. Now Duhon's worried he won't see the court. Larry Hughes, another recent cast-off, was also brought back. It's got all the conflict you need:
Removing Duhon and playing Hughes last night must have been a big blow to D'Antoni's ego. D'Antoni placed Hughes in the doghouse in January, played him sparingly in just two games and didn't take kindly when Hughes squawked, calling his rotation "a joke." Hughes again piped up after Sunday's horror show in Minnesota, saying he's growing a beard in defiance.
One of the Knicks all-time greats died yesterday, which gets a spread in both papers. Dick McGuire–"Mumbles"–passed away in Long Island. Both papers call up former players to talk about him. "He was kind of a waterbug, the way he could penetrate," said Bob Cousy.