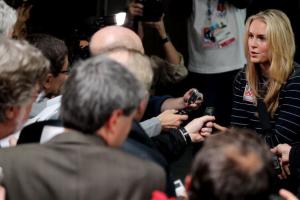 The Post puts skier Lindsay Vonn on the back cover this morning, one day after the Daily News ran a bikini-clad shot of her on its back cover. (Not that the Post's shot is all that discreet.)
But here's one where the Day Two story wins. After much ballyhoo about the comely Sports Illustrated cover girl, Vonn said yesterday that she's got a bum shin and might not be able to ski after all.
"I'm sitting here today questioning whether, you know, I'll be even able to ski," Vonn said. "I have to play it by ear."
Mike Vaccaro thinks she can be a winner without actually winning anything.
These were the kinds of stories we were reared on, that fed our vision of what the Olympics were supposed to be. There's an army of graying athletes who were forced to stay home from the 1980 Olympics in Moscow who still bear bitterness toward Jimmy Carter for boycotting those Games and stripping them of the culmination of their lifelong athletic aspirations.
Vaccaro says it will be a "fine thing if she can ease that boot on today."
If she can't, Filip Bondy thinks it's her own fault.
"And if this all turns into a bust, then Vonn will have to understand that she brought some of this on herself. You don't pose the pose, if you can't ski the slope."
No one is sure who to blame for the Knicks' awful season. Marc Berman recounts a telling exchange from Tuesday night.
Irate Knicks coach Mike D'Antoni waved his arms at Nate Robinson as Robinson approached the bench during a timeout in the third quarter on Tuesday night.
D'Antoni barked at Robinson for botching the last play with a bad decision. Robinson shouted right back at D'Antoni. Robinson then turned his head and uttered an F-bomb.
There could be someone new to blame soon. Rumors are still swirling about Tracy McGrady.
For obvious reasons, almost no one braved the snowstorm to see the Nets last night.
Hockey fans in Raleigh, North Carolina saw entirely too much of Jets head coach Rex Ryan when he changed into a Hurricanes sweater. Former Jets coach Herm Edwards had some advice on ESPN.
"The thing I've always told my players on the offseason is this: Don't eat yourself outta the league. That's not good."