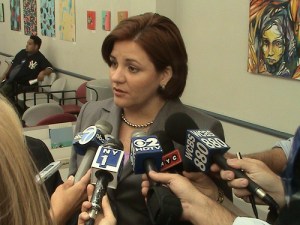 Joe Crowley speaks to government professionals on West 44th Street.
Governor Paterson speaks at the GM Economic Development Announcement, on River Road in Tonawanda, at 10 a.m.
Mayor Bloomberg discusses a loan modification program, on 3rd Avenue in the Bronx, at 10:30 a.m.

Harold Ford visits Nick Tahou Hots diner in Rochester at noon.
Christine Quinn delivers her State of the City speech, in the Council Chambers, at noon.
Ford meets with the mayor of Rochester, at City Hall, at 1 p.m.
Ford visits the Monroe Democratic County Committee at 4 p.m.
Paterson speaks at the Chinese American Planning Council dinner in honor of the Lunar New Year, on Elizabeth Street, at 7 p.m.
Mark Halperin and John Heilemann discuss their book, Game Change, with DL21C, on Washington Street, at 7 p.m.
Ford speaks at the University of Rochester at 7 p.m.
The Lenox Hill Democratic Club discusses this year's census on East 93rd Street.
Ansonia Independent Democrats meet on West 68th Street at 7:30 p.m.