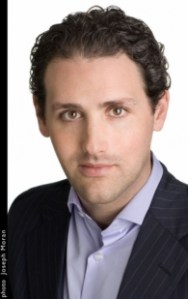 Having scored his new magazine a sit-down with President Obama after only a couple of months on the job, new BusinessWeek editor—and Observer insurgent—Josh Tyrangiel went along with his reporters to the White House.
"Being in the Oval Office is one of the most surreal experiences of your life," Mr. Tyrangiel said this morning on Bloomberg Television (which makes for a nice little cross-promotion underneath that expanding Bloomberg umbrella!).
Mr. Tyrangiel didn't directly address the controversy over the advance excerpts of the story—which ran under the headline "Obama Doesn't 'Begrudge' Bonuses for Blankfein, Dimon"—a teaser the White House said "inaccurately made it sound like the President brushed off the impact of bonuses and applauded the role of bankers." (BusinessWeek declined to change the headline.) The White House also released a transcript of the interview, to combat what it said were selective quotes that didn't include Mr. Obama's criticism of bonuses. Naturally, the rebuke drew the notice of Keith Kelly in the Post.
But Mr. Tyrangiel speculated that the story's buzz actually stemmed from Mr. Obama's messaging. "A year in, I think there is tremendous confusion about this particular President's relationship to business. And that's why any commentary on the matter gets attention," he said.
The editor described the president as "perplexed" with being perceived as anti-business, which apparently worked in the magazine's favor. "We were originally scheduled for about anywhere from 16-20 minutes, which in Presidential terms is kind of an eternity," Mr. Tyrangiel said. "But the President had a very serious message he wanted to get out. He used a couple of the early questions to really filibuster a little bit on that so he gave us about double the amount of time we were expecting."
The full story is out today.