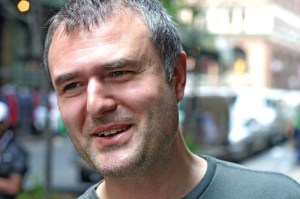 "Ah, this is going to be fun," posted Nick Denton when Cityfile went live in 2008.
Among the information contained in the site's 2,000-plus profiles: the Gawker czar's own middle name—"Guido."
He was duly impressed. And he seems not to have forgotten.
Cityfile went from fun Web diversion to serious business proposition this week, when Denton announced he had bought the site, making it Gawker Media's first acquisition. Gawker editor in chief Gabriel Snyder was out. Cityfile founder Remy Stern would be taking the helm at Mr. Denton's flagship blog.
>>READ MOLLY FISCHER'S PIECE ON THE CITYFILE ACQUISITION
Longtime Gawker readers have gotten used to Mr. Denton's aggressive staffing (and unstaffing) strategies. Mr. Snyder had an impressive tenure, distinguished by the very sort of expansion that Mr. Denton apparently wanted—but even success on the overlord's own terms was no guarantee of safety.
So it goes: At this point, Mr. Denton takes any outcry in stride.
"It's all to be expected," he said via instant message (his preferred mode of communication) on Tuesday. "The journalists see this as more evidence of their newly Hobbesian existence."
But the Cityfile acquisition made the news seem bigger, as though Mr. Denton's plans for world domination were entering a dramatic new phase. This wasn't just employment shuffles and stressed-out staffers. This was about the identity of Gawker itself. Mr. Denton wrote in his announcement memo that Cityfile would serve as "the New York and media industry channel on Gawker." Which sounds a lot like "the Gawker on Gawker."
So if Cityfile becomes Gawker, what does Gawker become?
"Gawker's explicitly been a national site since the end of the Choire era in 2007," Mr. Denton insisted, referring to former Gawker editor (and former Observer staffer) Choire Sicha. "And even before that, we had nearly as many readers in California [as] we did in New York." The audience underwent what Mr. Denton calls a "massive expansion" in the past three years, a period that saw Gawker fold in regional sites Valleywag and Defamer.
"The irony," he said, "is that we were left without a channel for the old Gawker. There are—even now—some people who want high media gossip and news about Manhattan power-brokers. … There just aren't that many of those readers. They're important and influential—but not that numerous."
Younger readers, he says, care more about Mark Zuckerberg than Mort Zuckerman.
But Cityfile does more than serve a readership that Mr. Denton now sees as somewhat marginal. It also provides a hefty resource: its archive of reference articles and ready-made profiles of noteworthy New Yorkers designed to draw eyeballs and search engines alike to the site.
"Google—and the readers—love reference articles," Mr. Denton said. "Much more than they love a bitty news story, actually." Sure, in contrast to Gawker, Cityfile's tone is "distinctively dry"—but think of the page views!
Which is not to say Mr. Denton has abandoned the strategy of nabbing talent rather than properties.
"One thing people haven't picked up: Remy was key to Radar magazine's online property," Denton said. "We went after Remy several times—going as far back as 2004." This time: "We just happened finally to be at the same place at the same time—like formerly star-crossed lovers."
Before it was dead, Radar was "a deadly rival," and Mr. Denton has an affinity for Radar refugees: In addition to Mr. Stern, there's investigative reporter John Cook, and Mr. Denton says that he's tried to hire Jeff Bercovici and Neel Shah "on several occasions."
"Radar was a great magazine that should never have been a magazine," Mr. Denton said. "It would be ironic if we were the ones to realize Maer Roshan's dream."
Amid all the Snyder drama, Gawker weekend editor Foster Kamer announced that he's leaving to blog for The Village Voice. But even given the editorial turmoil, he does so with a measure of regret.
"I drank a very, very large cup of the Kool-Aid," he said. "Great, old talent is coming to Gawker"—like Jessica Coen, the first blogger he says he ever read. And the new EIC himself: "Shit, I won't get to work with Remy."
Mr. Denton encounters a lot of "hostility" from the print media world—because, Mr. Kamer thinks, they're not sure whether he's one of them, and he isn't. "But does he have a little bit of George Hearst in him? Yeah."
Mr. Denton won't go that far. Carving out a role as the 21st century's version of a print mogul? "No idea," he said.
"We always liked the magazine and cable models," Mr. Denton said. "Properties with personality—organized around people's identities and passions. I think at one point we even said we wanted the same portfolio as Condé Nast: 17. But they have fewer now, I guess."
mfischer@observer
More from Molly Fischer: