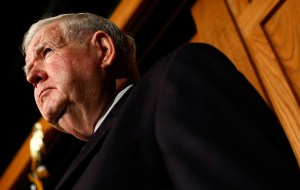 When Anthony Weiner arrived in Congress in 1999, the young newcomer said he sought out the old "oral historians" of the institution–guys like George Miller, David Obey and Pennsylvania Congressman Jack Murtha, who passed away this afternoon at the age of 77.
"He's someone who had seen everything, who gave you great insight," Mr. Weiner told the Observer. "While obviously a great deal of his authority came from his seniority, he was just genuinely nice to younger members. He was just a genuinely nice, mentor kind of guy."
"He was someone who was one of the last of a breed of the old-line institutional guys who both managed to become experts in their area and jurisdiction–he probably knows more about the defense budget than any member of Congress–but also was someone who was nearly universally admired," Mr. Weiner said.
What Mr. Murtha was not was a television personality. "When he ran for majority leader, I was one of his whips, and we ran a campaign to try to get support, but we realized pretty quickly he was from a different era. I would get him on the phone with bloggers and watch in wonderment as he tried to figure out what the heck was going on.
"But he was such a sweet guy and I think when he came out against the Iraq War, and called for withdrawal, it was such an important tipping point. And he didn't just come out and say it and go away, he really became an important part of the argument against it. He gave such moral clarity to it."
Mr. Murtha's switch immediately altered the terms of debate. "The supporters of the Iraq War always had this arrow in their quiver where they said, 'Oh you're not in these briefings, there's a lot you don't know, you don't understand.' Well, no one says to Jack Murtha, 'You don't understand defense policy. Or you don't understand the Department of Defense.' So almost overnight that conversation changed," Mr. Weiner said.
In 2006, Mr. Weiner asked Mr. Murtha to endorse Yvette Clarke in her run for Congress on an anti-war platform. "He didn't say, 'Is she going to win?' He said, 'Would she be good? Would it be good if she did win?'" Mr. Weiner recalled.
"I remember we met in Midtown where he actually endorsed me," said Ms. Clarke, who went on to win her race that year. "I remember thinking what a big man."
Mr. Murtha then came to Brooklyn for a controversial campaign appearance. "It certainly added momentum at a time when I could really use it," Ms. Clarke said. "It brought credibility to the things I had been saying during the campaign against the Iraq War."
Both representatives recalled Mr. Murtha's famed seat at the back of the House. "He sat in the same corner. I would stop over him and give him a hug and check in on what was going on with legislation on the floor," Ms. Clarke said.
"Maybe someday someone will sit in that corner seat he occupied, but it will never be the same," said Mr. Weiner. "He's a really remarkable guy and I'm going to miss him a lot."